The Wild Hunt
(2010)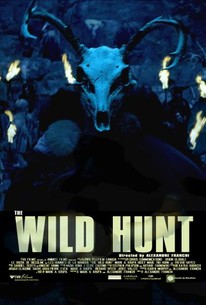 Movie Info
A day of high-spirited fun takes a turn into darkness as a game becomes all too real in this comedy drama from Canada. Erik (Ricky Mabe) and his girlfriend, Lyn (Tiio Horn), are both interested in Live Action Role Playing games, in which teams of players assume the guise of particular characters and act out mock battles as part of a fantasy scenario. However, Lyn begins developing a stronger interest in the game than Erik, and runs off for a weekend of play without bringing him along. Depressed, Erik and his brother Bjorn (Mark A. Krupa) set out to catch up with her as their friends impersonate a horde of Viking warriors. Bjorn brings along his "Hammer of Thor" as well as Murtagh (Trevor Hayes), who takes his role as a shaman more than a bit seriously. As the day wears on, Erik's frustration is reflected in his mates, and what began as an afternoon of fantasy and adventure turns into a battle where the blood and wrath are very real. The Wild Hunt was the first feature film from writer and director Alexandre Franchi, who co-wrote the screenplay with actor and writer Mark A. Krupa, who plays Bjorn. ~ Mark Deming, Rovi
Critic Reviews for The Wild Hunt
Audience Reviews for The Wild Hunt
This movie is FILTH. Every aspect of LARP is dragged through the gutter in this terrible depiction of LARPers. The movie implies that we are insane, never break character, lead depresing lives and then it decends into rape and real murder. Could you imagine a hockey team or a football team suddenly breaking out sledgehammers and broken hockey sticks and killing each other? Well it doesn't happen in LARP either. A realistic depiction of LARP can be found in the movie Role Models; some arrogance, some arguing but in the end, everyone is there to have fun.
Mark Charke
Super Reviewer
The Wild Hunt Quotes
There are no approved quotes yet for this movie.