The Awakening
(1980)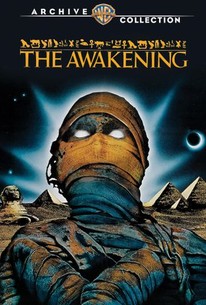 Movie Info
English archaeologist Matthew Corbeck (played by the emphatically-American Charlton Heston) undertakes an expedition to find the tomb of the Egyptian princess Kara, despite his awareness of a nefarious curse that is said to befall anyone who disturbs the tomb. Eighteen years after Corbeck's discovery of the burial site, his teenage daughter (who was born at the very moment of the tomb's violation) begins to behave strangely. Turns out she's been possessed by Kara's malevolent spirit, carrying out the princess's revenge by causing several deaths and developing a less-than-healthy obsession with Daddy. Based very loosely on Bram Stoker's novel The Jewel of Seven Stars (itself the inspiration for Hammer's superior Blood from the Mummy's Tomb), this is basically Warner Brothers' attempt to jump on the big-budget horror bandwagon in the wake of The Omen's staggering success. The result is a good-looking but artistically hollow film -- with elaborate sets, lush cinematography and a sweeping musical score, but little in the way of logic or suspense. ~ Cavett Binion, Rovi
Critic Reviews for The Awakening
Audience Reviews for The Awakening
½
No surprise to me that this bombed on its release. I rented it thinking it might be a hidden 80's gem, but no such luck. The opening scene goes on forever (and is boring). Then finally it speeds up to current day when Margaret is turning 18 and the fun is expected to start. Actually, there is no fun. Boring, boring, boring. Horrible end to Dad's second wife (and while we are talking about Dad, his appearance was more creepy than anything else happening in this movie. What was that about? Those creepy stares...). Then in the final ten minutes, things finally get interesting. Then the movie stops abruptly. Can I have that hour and forty minutes back again, please?
Nicki Marie
Super Reviewer
½
This film version of Bram Stoker's horror novel, The Jewel of the Seven Stars, is a worthy enough effort with a strong cast and impressive locations but it's all a bit too clinical and dry to be genuinely entertaining.
The Shrewlord
Super Reviewer
An okay movie about mummies, it kind of has an "Omen" feel to it at times, and it's pretty boring in the beginning, but it gets better in the end. Overall, it's okay.
The Awakening Quotes
There are no approved quotes yet for this movie.