Bad Company
(1972)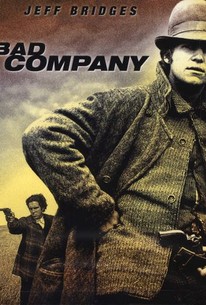 TOMATOMETER
AUDIENCE SCORE
Critic Consensus: Well-acted and pleasantly gritty, Bad Company is one of the more authentic Westerns of its era -- and an auspicious debut for director Robert Benton.
Movie Info
Set during the Civil War, Bad Company stars Barry Brown as a Northern boy, Drew Dixon, who heads West to avoid getting drafted. He falls under the spell of Jake Rumsey (Jeff Bridges), an easygoing young con artist. Drew joins Jake's gang of boy bandits, who live by their wits and try to avoid confrontation with adult criminals like Big Joe (David Huddleston). It is Drew who must eventually save Jake from hanging, even though he realizes that his intervention could lead to his own execution.
News & Interviews for Bad Company
Critic Reviews for Bad Company
Audience Reviews for Bad Company
½
"Bad Company" seems to be the result of weak direction and a real lack of narrative cohesion, which seems to have been caused by poor editing. The story plays out in a somewhat enjoyably episodic fashion, but there's not much exposition or plot development and the tone changes so many times that it becomes confusing as to whether or not the film is to be taken seriously. Barry Brown and Jeff Bridges both have solid performances, which can't be said for most of the cast, and there are some good scenes and clever exchanges between the both of them, but overall, "Bad Company" is pretty unspectacular.
Stephen Earnest
Super Reviewer
Bad Company was an awesome glimpse into one of Jeff Bridges earlier roles. What I loved about this movie it the fact that it was filmed in 1972 giving it true western feel and realistic approach (likely because it wasn't filmed as much in Hollywood Studios as truly out in the open), but more so was, it was filmed before we lived in a overly sensitive society where as the movie was able to be completely gritty with the times using terms and outlooks to be as authentic as it truly would have been if you were actually watching these men in the 1860s. The plot itself was a well done following of an Ohio Boy who started out as a good Christian Hillbilly who deserted before he was drafted into the Union Army; partially because of the sacrifices his family had already gave (his older brother). It truly captures the essence of the time and how many well-behaved individuals were changed into ruthless out-laws solely based on the ruthless era in which they lived.
Bobby Hobbs
Super Reviewer
BAD COMPANY is a character study about how a good "Christian" boy, slowly becomes an outlaw. Of course he is aided on his life-altering journey, by the very untrustworthy and charismatic, Jake Rumsey (Jeff Bridges). This is not your regular run-of-the-mill Western. The main characters draw a fine-line between good and bad, and the harsh realities of living during these tumultuous times. Are portrayed very realistically, almost too much so. A great little gem that features a whole slew of great character actors. This is also an early look at a young Mr. Bridges, whose great acting prowess was evident, even back in 1972.
Jason Reneau
Super Reviewer
Bad Company Quotes
There are no approved quotes yet for this movie.