The Bad Seed
(1956)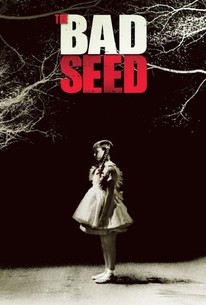 Movie Info
Young Patty McCormack received an Oscar nomination for her performance as a murderous child in this chilling dramatic horror classic. Shocking at the time of its release in 1956, The Bad Seed remains unsettling to this day as a mother discovers that within her seemingly angelic daughter beats the heart of a cold-blooded serial murderer.
Critic Reviews for The Bad Seed
Audience Reviews for The Bad Seed
Originally a play, written by Maxwell Anderson, director Mervyn LeRoy stays virtually faithful in his adaptation. He even cast original actors Patty McCormack, as the careworn little girl named Rhoda, and Nancy Kelly as her inundated mother. The dialogue feels staged, as do the ellipses scenes, because it tries to look and feel like a play. This tone is substantiated by the ending, which is quick to show the link to the original play, and shush naysayers by attempting to show that its dark subject matter was based in fiction and not the real world, probably the only way the censors would let this film exist. Even today stories about little children as murderers just aren't broached unless there's a catch: they're possessed by demons, they're actually a middle aged woman, or they were brought back from the dead. Here the story is very straight forward: little girl kills, and then covers it up by killing some more. Instead of showing the gruesome nature of her crimes, the film builds up the backstory, and shows how she's capable of killing. Though it's a bit outdated in its concept, and wasn't as horrific as a modern interpretation might be, it's a creepy look at the inner workings of a so-called "bad seed" and based on that structure alone, this is a pretty interesting classic. LeRoy may not have been able to push the envelope as far as he wanted, but there's a dark subtlety to McCormack's performance that remains unmatched, even by today's standards.
Spencer S.
Super Reviewer
½
"Now there's a little ray of sunshine, that one." An occasionally riveting movie from the 50's about a sunny, charming, sociopathic little girl and her mother's desperate attempts to protect her and hide her nature. The Bad Seed sometimes makes the mistake of focusing too much on the dull adults, but overall, it's a solid movie. Good acting all around, and unlike similar modern movies like Orphan, The Bad Seed gets better as it goes along instead of imploding into an absurd mess. It feels a lot like a play, which is natural due to its evolution from novel to stage-play to film. I thought The Bad Seed was a sinister (and relatively timeless) gem of the 50's, and I'm sure it was quite controversial in its time. The ending was changed because of the Hays Code, in fact, and feels a bit like a cop-out as a result, but not to the extent of ruining what came before. Check it out if you're interested.
½
The Bad Seed is second to only The Omen when it comes to evil child horror films. Patty McCormack is amazing as the evil but deceptively sweet little girl Rhoda. But my favorite performance of the movie came from Henry Jones as the janitor who sees through Rhoda's sweet demeanor. A great movie that deserves more exposure than it has. Don't stop watching when the movie is over. There is a very humorous scene during the cast of characters.
Melvin White
Super Reviewer
The Bad Seed Quotes
| | |
| --- | --- |
| Rhoda Penmark: | What would you give me for a basket of kisses? |
| | |
| --- | --- |
| Rhoda Penmark: | You better give me those shoes. They're mine! Give them back to me! |