Battleground
(1949)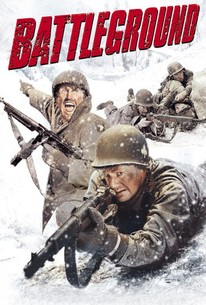 Movie Info
Incoming MGM production head Dore Schary ramrodded Battleground into the studio's schedule over the virulent protests of MGM boss Louis Mayer. The result was an award-winning box-office hit, as well as the beginning of the end of Mayer's power. This dramatization of the battles of Bastogne and the Bulge in the waning days of World War II concentrates on a single infantry unit. Van Johnson and John Hodiak are the ostensible stars, but the film is stolen by James Whitmore as the cigar-chomping, battle-stained sergeant. Also appearing is Ian MacDonald as General McAuliffe, whose legendary response to the Nazi's suggestion that the Americans surrender consisted of a single four-letter expletive: "Nuts". Whitmore's final scenes of near-delirium before the relief troops arrive are unforgettable. Battleground tries within MGM limits to be wholly realistic, though it is slightly compromised by the scripters' inability to use Army profanity, and by pointless subplot involving actress Denise Darcel. The film doesn't hold up as well as such wartime efforts as The Story of GI Joe or Walk in the Sun, but in 1949 Battleground was regarded as an important milestone in the field of truthful, de-glamorized combat flicks. Please avoid the colorized version: this is a black-and-white subject if ever there was one.
Critic Reviews for Battleground
Audience Reviews for Battleground
An infantry unit fights in the Battle of the Bulge. This is a claustrophobic, character-driven war film that proves that very little in modern-day film is original as there is a lot of Platoon and even a dose of Full Metal Jacket in Battleground's plot construction and character development. The center of the film is the characters who take a while to get to know, but once the film gains momentum in the second act, they become real human beings under extraordinary circumstances who complain about their lack of big picture knowledge of war strategy and each other. Overall, while I didn't like the film's pace and thought the characters took too long to delineate themselves, I can't deny that this is a good, foundational film in the canon of war movies.
Jim Hunter
Super Reviewer
The good news is that Hooper(Scotty Beckett) and Layton(Marshall Thompson) are two hours away from Paris. The bad news is that there is still a war going on, as leave has just been canceled for Layton's new unit, giving him little time to settle in, just as Holley(Van Johnson) returns from Paris. It is even worse for 'Pop' Stazak(George Murphy) who is on the verge of being discharged for humanitarian reasons. All they know is that they are going someplace cold which is usually something not associated with hell. Their first stop is Bastogne where Denise(Denise Darcel) welcomes them with open arms, with Jarvess(John Hodiak) translating, in return for a year's worth of chocolate and cigarettes. "Battleground" is a rousing tribute to the 'Battered Bastards of Bastogne' of the 101st Airborne Division who with limited supplies and little fresh knowledge of the wider conflict and even which country they are in, know who they are fighting in holding the line. Camaraderie is key as we see the men evolve from happy-go-lucky to battle hardened veterans with Layton earning the right to be called by his name. And despite coming from a very different background, Roderigues(played by a very young Ricardo Montalban) is accepted too, as he takes great enjoyment in his first snow.
A war movie that's not a fighting movie., This film tells one story of the many companies who fought in the "Battle of the Bulge", the WWII battle in the Ardennes Forest of Belgium in Winter 1944. While the film has several exciting battle sequences, its main focus is on the men who are doing the fighting. Van Johnson, Marshall Thompson, James Whitmore and John Hodiak lead the cast, all believeable as wearied soldiers who want nothing more than to go home. I have a special fondness for this film because my grandfather fought in Battle of the Bulge, and it's interesting although painful to see what kind of conditions he endured. And -- for future reference -- I'm told by people who know better that the film "Battle of the Bulge" is crap and not even close to what really happened out there. This one is the one to see. And to get the full picture, check out Band of Brothers, a 10-part HBO mini-series, based on the a book written by a man who was there.
Battleground Quotes
There are no approved quotes yet for this movie.