Best Boy
(1979)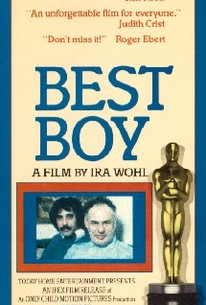 Movie Info
Director Ira Wohl took on this personally courageous project that may ultimately help other people who live under the same circumstances as Wohl's aunt, uncle, and their mentally handicapped son Philly. When Wohl started filming this documentary, Philly was entering his fifties, and his parents were not going to live forever. They had always taken care of Philly but Wohl intervenes not only with the eye of his camera, but with his encouragement to get Philly living on his own. The process of his aunt and uncle coming to terms with giving up their only remaining son is enlightening and moving, as are the changes Philly goes through himself. Best Boy received a 1979 Academy Award and a 1980 New York Film Critics Award for "Best Documentary."
Critic Reviews for Best Boy
Audience Reviews for Best Boy
Touching and funny, Ira Wohl documents the life of his mentally challenged cousin. You'd have to have a heart of stone not to love this one. I lent this one to my film teacher 8 years ago and still haven't gotten it back. Maybe I should give up at this point, but I believe it's still tough to find. Damn you film school!
Christopher Brown
Super Reviewer
Best Boy Quotes
There are no approved quotes yet for this movie.