Betrayed
(1988)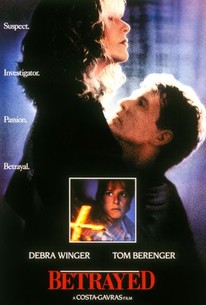 Movie Info
Set in Iowa, Betrayed stars Debra Winger as an FBI agent who infiltrates a Klanlike white supremacist organization. Allegedly a woman of intelligence and perception, Winger throws caution and logic to the winds when she falls in love with local farmer Tom Berenger. Much to her surprise Berenger turns out to be the most rabid racist of all.
Critic Reviews for Betrayed
Audience Reviews for Betrayed
I dont know if it was me but I had the feeling well please dont get me wrong, but there are actors who are really great at playing the character Tom Berenger had in the Movie, but Tom Berenger`s acting in this Movie was really scaring. I mean it was like he was not acting, if it was himself. Well It is sickening for me to hear small Children Swear so badly in the Movies. It was Pervert how the 6 years old little girl abused the Brothers and Jews. I was speechless. I had the feeling the Message is for all "None American and other race than whites" to be aware of, "we are everywhere." I dont know perhaps I missinterpreted the Movie Message, what I doubt. Very catchy topic. Sad fact is that these things are still happening and they are out of control. It is easier to look away but if they are right under our nose, we cannt deny or ignore and when some of us belong to the other side it is worster. If anyone thinks this Movie is "Inspiring" that person is just too disturbed I AM SORRY BUT HOW CAN ANY ONE FIND A MOVIE LIKE THIS "INSPIRING AND TOUCHING"?!! unless well... I thought I have seen everything. I was wrong.
Anthony Valletta
Super Reviewer
If the script had matched Debra Winger's performance it would be a five star rating.
Betrayed Quotes
There are no approved quotes yet for this movie.