The Big Sleep
(1946)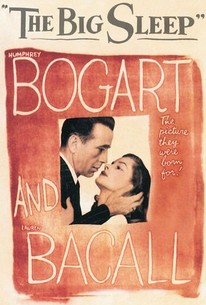 TOMATOMETER
AUDIENCE SCORE
Critic Consensus: A perfect match of screenplay, director, and leading man, The Big Sleep stands as a towering achievement in film noir whose grim vitality remains undimmed.
Movie Info
The definitive Humphrey Bogart/Lauren Bacall vehicle, The Big Sleep casts Bogart as Raymond Chandler's cynical private eye Philip Marlowe. Summoned to the home of the fabulously wealthy General Sternwood (Charles Waldron), Marlowe is hired to deal with a blackmailer shaking down the General's sensuous, thumb-sucking daughter Carmen (Martha Vickers). This earns Marlowe the displeasure of Carmen's sloe-eyed, seemingly straight-laced older sister Vivian (Bacall), who is fiercely protective of her somewhat addled sibling. As he pursues the case at hand, Marlowe gets mixed up in the murder of Arthur Geiger (Theodore von Eltz), a dealer in pornography. He also runs afoul of gambling-house proprietor Eddie Mars (John Ridgely), who seems to have some sort of hold over the enigmatic Vivian. Any further attempts to outline the plot would be futile: the storyline becomes so complicated and convoluted that even screenwriters William Faulkner, Leigh Brackett, and Jules Furthmann were forced to consult Raymond Chandler for advice (he was as confused by the plot as the screenwriters). When originally prepared for release in 1945, The Big Sleep featured a long exposition scene featuring police detective Bernie Ohls (Regis Toomey) explaining the more obscure plot details. This expository scene was ultimately sacrificed, along with several others, in favor of building up Bacall's part; for instance, a climactic sequence was reshot to emphasize sexual electricity between Bogart and Bacall, obliging Warners to replace a supporting player who'd gone on to another project. The end result was one of the most famously baffling film noirs but also one of the most successful in sheer star power. ~ Hal Erickson, Rovi
News & Interviews for The Big Sleep
Critic Reviews for The Big Sleep
Audience Reviews for The Big Sleep
½
If one enjoys a detective outing that makes sense, where all the dots connect, then one need search elsewhere, making sense is not the purpose here. But if moody atmospherics and crack dialogue is your thing then settle in for one primo experience
Kevin M. Williams
Super Reviewer
½
A smart detective story full of the most exquisite dialogue and with an extremely complex plot that prompts us to try to connect the pieces of the intricate puzzle in our heads, even if it actually does not answer all of the questions (the death of a certain character is left unsolved).
Carlos Magalhães
Super Reviewer
it's supposed to be a classic, and, while I did enjoy this film noir caper, I must say...it's pretty overrated. Based on a novel by Raymond Chandler, this is about cynical private investigator Philip Marlowe and his involvement in a blackmail case that turns murderous. The film is noted for being really complex and confusing, and that's one of my main issues with it. I'm not a stupid person, but if the three screenwriters who adapted this had to contact Chandler and ask him to tell them what was going on, and even he didn't really know (or so he said), then you've got some problems here. I've watched, and enjoyed, some very complex and convoluted films before, but here it just didn't stick. I think maybe too it has something to do with how hyped this film was. Yeah, it's a strong mystery, and sure, maybe I did enjoy the fact that it's really more about the procedural aspects of a criminal investigation than the results, but even then it feels unsatisfying. Maybe that has to do with my other major complaint, which is censorship. I know that you can still have a great work of art without having to details all the graphic aspects, but when the more sordid stuff is integral to the film, then maybe yeah, they need to be shown. Obviously that wasn't gonna happen in the 40s, but maybe they could have tried to really be groundbreaking, even if it meant courting more controversy than they would have wanted to deal with. Look at stuff like A Clockwork Orange as a prime example. Sorry for ranting, I just couldn't help it. Anyways, yeah, this is a fun, though challenging mystery thriller. I think what makes it work in the end are the performances, and the chemistry the cast have with one another, especially where Bogart and Bacall are concerned. Those tow are terrific, and its said that Bogart's turn are Marlowe is the definitive one. Works for me. Martha Vickers is also really good, and, even though she makes just a brief appearance, I loved Dorothy Malone as the book seller that Marlowe has a moment with while hiding out in her shop. It's a great scene (and one where I'm okay with the subtlety). Despite how much of a complicated mess this is, the film does have some great lines, and a dry and sardonic sense of humor. It's really stylish, and from a formal perspective, is very impressive. The look is great, it's well shot, and the score by Max Steiner is a real treat. It has its flaws, and I'm prepared to have my cinema buff card revoked for saying anything bad about this film, but I stand by my judgment. I did like it, and do recommend it, but think that it's not as grand as I was lead to believe.
Chris Weber
Super Reviewer
The Big Sleep Quotes
| | |
| --- | --- |
| Agnes Lowzier: | Wish me luck copper,I got a raw deal |
| Agnes Lowzier: | Wish me luck, Copper. I got a raw deal. |
| Philip Marlowe: | Your kind always does |
| Philip Marlowe: | Your kind always does. |
| | |
| --- | --- |
| Philip Marlowe: | You do sell books don't you? |
| Agnes Lowzier: | What do those look like ,grapefruit? |
| Agnes Lowzier: | What do those look like? Grapefruit? |
| | |
| --- | --- |
| General Sternwood: | If I seem a bit sinister as a parent Mr. Marlowe, it's because my hold on life is too slight to include any Victorian hypocrisy. I need hardly add any man who has lived as I have and indulges or the first time in parenthood at my age deserves all he gets. |
| | |
| --- | --- |
| Philip Marlowe: | She tried to sit on my lap while I was standing up. |