Blind Date
(1987)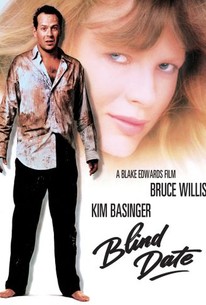 Movie Info
Corporate workaholic Walter Davis (Bruce Willis) needs a date for an important business dinner. His brother fixes him up with beautiful Louisiana belle Nadia Gates (Kim Basinger). Unfortunately, Nadia's alcohol allergy so alters her personality that she leads Walter on a series of comic adventures culminating in the destruction of both the important dinner and his career. To make matters worse, Nadia's obsessive ex-boyfriend David (John Laroquette) continues to ineptly stalk them. About the point Nadia sobers up, Walter snaps and assaults David, landing himself in jail. David, a lawyer, uses this to his advantage. He arranges to have the charges against Walter dismissed in exchange for Nadia's hand in marriage. When Walter learns of Nadia's sacrifice, he designs a plan to save her from a fate worse than death. Blake Edwards of "Pink Panther" fame directs this adventurous romantic comedy. A tame beginning quickly gains humorous energy. The principle actors show good comic chemistry as do the supporting cast.
Critic Reviews for Blind Date
Audience Reviews for Blind Date
One of the funniest films of the 80s, this comedy about a blind date going awry enjoys embarrassing situations for its protagonist and piles one after the other until you can't take it anymore. Director Edwards already delivered a similar film with his classic "What's up, doc", recycling a few of the ideas here, but still creating another riot of confusion, chaos and insane characters. The chemistry between Willis and Basinger is great and even though the film reeks of the 80s in every second, it's still fun to revisit over and over again.
In Blind Date, Walter Davis(Bruce Willis) goes on an arranged night-out,with Nadia Gates,(Kim Basinger), that starts off well but turns very, very ugly when alcohol gets into the mix. Don't worry though... this is a romantic comedy so you should be able to turn off your brain and watch the silliness unfold until you get to the happy ending. had a few laughs~!
This is a pretty wild comedy romance adventure, I really liked it Willis and Basinger can be really funny when they want to. This movie is highly entertaining and I really like it.
Blind Date Quotes
There are no approved quotes yet for this movie.