Blood and Sand
(1941)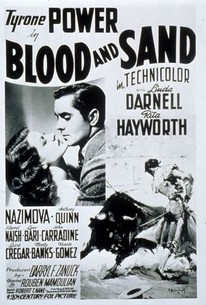 Movie Info
Based on the novel by Vincente Blasco Ibanez, Blood and Sand is the beautifully rendered story of the rise and fall of a young, cocksure Spanish bullfighter, played by Tyrone Power. Working his way slowly up the ladder to success, Power achieves fame when he is praised to skies by fatuous, fickle critic Laird Cregar. A country boy at heart, Power finds himself way over his head with sophisticates, and is soon torn between his pious and faithful wife Linda Darnell and sexy, mercenary Rita Hayworth. It is Darnell, however, who comforts Power after his final, fatal goring in the bull ring. The film's best scenes depict the curious combination of horror and fascination with which bullfighting aficionados treat this most barbaric of "sports." Blood and Sand was previously filmed in 1922 with Rudolph Valentino; a Valentino contemporary, Alla Nazimova, plays Power's mother in the remakes. Portions of this film turned up as stock footage in the 1945 Laurel and Hardy comedy The Bullfighters.
Critic Reviews for Blood and Sand
Audience Reviews for Blood and Sand
Realism takes a backseat to romance in this 1941 Technicolor extravaganza. A young Spanish boy rises from the depths of poverty to become "The World's Greatest Bullfighter". Tyrone Power is Juan Gallardo, the matador who discovers that fame is fleeting and not necessarily all that it is cracked up to be. His marriage to the young, virtuous Carmen (Linda Darnell) is threatened when his notoriety attracts the attention of the beautiful but unscrupulous Dona Sol (Rita Hayworth). This classic teaming of Hollywood heavyweights also features an up-and-coming young Anthony Quinn in a memorable supporting role. Every effort was made to try and make the violent sport of bullfighting more palatable for American audiences. Scenes of slaughter and blood are shot from a distance or, more often than not, not at all - opting instead for reaction shots of the crowd to convey the shock and brutality of the circumstance. Blood and Sand may not be an honest rendering of Spanish toreadors but it is enormously entertaining.
Randy Tippy
Super Reviewer
Blood and Sand Quotes
There are no approved quotes yet for this movie.