The Blue Bird
(1940)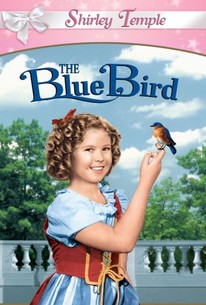 AUDIENCE SCORE
Critic Consensus: No consensus yet.
Movie Info
When Darryl F. Zanuck's arrangement to loan Shirley Temple to MGM as star of The Wizard of Oz fell through, Zanuck hastily assembled a lavish Technicolor vehicle for his diminutive star which, he hoped, would match Wizard in popularity and appeal. The result was The Blue Bird, adapted from the allegorical stage play by Maurice Maeterlinck (previously filmed by director Maurice Tourneur in 1918). In emulation of The Wizard of Oz, The Blue Bird was bookended with black-and-white sequences, reserving Technicolor for the fantasy "body" of the film; similarly, Gale Sondergaard, who had been the first choice to play the Wicked Witch of the West in Wizard, was cast as Blue Bird's nominal villainess. Set in mid-Europe sometime in the late 18th century, the story concerns Mytyl (Temple and Tyltyl (John Russell), the children of a woodchopper (Russell Hicks) who has been called to fight in a faraway war. Heartbroken, the kids decide to run away from home in search of the Bluebird of Happiness, which will ostensibly solve all their problems. Falling asleep, Mytyl and Tyltyl dream that the good fairy Berylune (Jessie Berylune) is leading them on that search, accompanied by their household pets Tylo (a dog) and Tylette (a cat), who have assumed human form (and as such are repectively played by Eddie Collins and the aforementioned Gale Sondergaard). Before arriving at the far-from-unexpected realization that the elusive Bluebird of Happiness is no further than their own backyard, the two kiddies undergo a variety of astonishing experiences, including a raging forest fire (a triumph of 20th Century-Fox special-effects master Fred Sersen) and an oddly unsettling visit to "The Land of the Unborn". Rather heavy going for its intended family audience, The Blue Bird proved to be Shirley Temple's biggest flop, and a subsequent 1976 US-Soviet version starring Elizabeth Taylor fared no better at the box office.
Critic Reviews for The Blue Bird
Audience Reviews for The Blue Bird
½
The 20th Century Fox "answer" to "The Wizard of Oz", which was released the year after that film, is an odd little Shirley Temple vehicle. The story centers around two children and recalls the weird germanic fairy tales and eastern european folk stories of long ago. Mytyl (Temple) and her brother Tyltyl catch a bird in the royal forest one day. Instead of giving the bird to her sick little friend, she selfishly keeps it for herself. Later at dinner, she complains about how poor her family is and how miserable she is. After being sent to bed, the film undergoes a black-and-white to technicolor transformation (ala The Wizard of Oz). When the children wake up, they are asked by Fairy Berylune to find a blue bird. Fairy Berylune gives them several companions to aid them on their quest by turning their dog, Tylo and cat, Tylette into humans, as well as creating a human version of their lantern named Light. To find the blue bird, they first travel to the past (where they meet their very clingy dead grandparents), to the land of luxury (where they meet Mr. and Mrs. Luxury, who give the children everything they want but love), and to the future (to heaven, where all the unborn little boys and girls live, waiting to be born). It's all a little bit simplistic and childish, but I think that's the point. Kids today might get a little creeped out by certain aspects of the movie, but overall, it's pretty cute (weirdly cute).
Devon Bott
Super Reviewer
Borderline ghoulish fantasy. A huge flop in its day, Shirley's first, and its easy to see why the film is loaded with references to death and dying, it was supposed to be Fox's answer to The Wizard of Oz but there's no way this morbid entry could every approach that classic.
Anthony Valletta
Super Reviewer
The Blue Bird Quotes
There are no approved quotes yet for this movie.