Boss Nigger (The Black Bounty Killer)
(1975)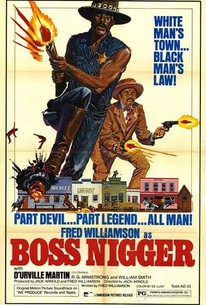 AUDIENCE SCORE
Critic Consensus: No consensus yet.
Movie Info
Director Jack Arnold, who once guided the destinies of Creature From the Black Lagoon, does the same for the equally fearsome Fred Williamson in Boss Nigger. Set in the Old West, the film casts Williamson and D'Urville Martin as a pair of ruthless bounty hunters. They ride into the town where their quarry is hiding, then set about to threaten, cajole, and brutalize everyone in the community. Surprisingly, the violence is rather tame in comparison to other films of this ilk. Co-scripted by Fred Williamson (who seems to have overdosed on Randolph Scott flicks), Boss Nigger's video title was shortened to simply Boss ; the film is also known as The Black Bounty Killer.
Critic Reviews for Boss Nigger (The Black Bounty Killer)
Audience Reviews for Boss Nigger (The Black Bounty Killer)
Much for the same reason I saw "The Incredibly Strange Creatures Who Stopped Living and Became Mixed-Up Zombies" film is that its title caught my attention. Much to my surprise this western is well made and makes time fly by fast. Boss Nigger is about two black bounty hunters that ride into a small town out West in pursuit of an outlaw. They discover that the town has no sheriff, and soon take over that position, much against the will of the mostly white townsfolk. They raise hell, chase women, and milk the locals for cash, while waiting for the opportunity to get their man. Let me start with the negative since there is not much those. The film lacks any three dimensional characters, even the movie central characters lack development of any kind. The romance aspect are forced, secondary are nothing more than plot devices, and a simple villain. Now that we got the flaws out of the way it times to talk about the positive. It's well pace, contains tons of gun fight, a good sense of humor, and plot that is very deep. It accurately depicts racism in its time yet does not make it the driving force of the plot. It's because of this the film plays out well and despite it racist dialogue does not discriminate against a particular race. If anything, the racist dialogue is there is a key trait in showcasing that our heroes are more concerned with bringing justice in the west than worrying about discrimination. The acting is very good and Fred Williamson who plays the title character (yes, that's his name according to the closing credit) is very cool. Fred Williamson portrayal is reminisce of Clint Eastwood "Man With No Name" protagonist from the Dollar Trilogy. Also, if you like the style of the Dollar Trilogy than you'll find plenty love about "Boss Nigger" filming style. Even with a very notable nod to Clint Eastwood iconic character. I have to mention that this western an awesome theme song and unconventional funky score that gives this its own identity. "Boss Nigger" might have a racist title, but if you're open minded and tolerate the accurate racist language you'll find a quality western. One fill with excitement, cool heroes, plenty of laughs, great drama, and a kick-ass theme song makes this are the more reason to check it out.
Caesar Mendez
Super Reviewer
I've always enjoyed Western; I find it to be an exciting and quite often underrated genre of cinema. I say underrated because a lot of people think these films are simply for an older audience, and I simply believe that isn't true, ands in turn, many viewers will miss out on well made movies that are highly entertaining and fun. This Blaxsploitation piece Boss n***er is a well made film that has a pretty good story and effective acting from Fred Williamson. The film has a very interesting story that should appeal to viewers who enjoy a good Western. The film has plenty of flaws, but what makes this one worth checking out is the good action and the performance of Williamson alone. The soundtrack is like 1970's porn music, which is a bit odd, but it fits with the style of the movie. Quentin Tarantino has been influenced by such works, and it shows in his latest directorial effort Django Unchained. Jack Arnold, director of The Creature from the Black Lagoon directs this picture with flair, and in terms of a low-budget film, this one delivers some good entertainment value for what it is. Now, this is my first attempt at viewing a piece of blaxsploitation cinema, and I quite enjoyed it. Williamson makes it worth seeing and an essential viewing for fans of low-budget picture. Most of the time, these movies are far better than big budget pictures and they get away with so much more. Sure, the story is a bit cheesy and unpolished, but that's the whole point. Worth seeing if you enjoy these types of films.
½
Blaxploitation/Western. Can't get any better than that. :D
Tim Salmons
Super Reviewer
Boss Nigger (The Black Bounty Killer) Quotes
There are no approved quotes yet for this movie.