The Bounty
(1984)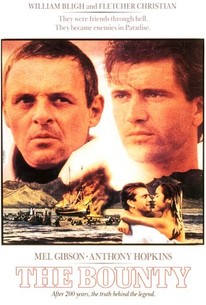 Movie Info
This fourth film dramatization of the 1789 mutiny aboard the H.M.S. Bounty is based not on the familiar Nordhoff and Hall book, but on Richard Hough's novel Captain Bligh and Mr. Christian. This time, the infamous Captain Bligh (Anthony Hopkins) is as strict a disciplinarian as ever. He is, however, no monster; faced with his crew's increasing laxity after an idyllic visit to Tahiti (the search for breadfruit takes second place to limitless sex with the island girls), Bligh is forced to resort to flogging and other such means to keep his men in line. Mr. Christian (Mel Gibson), formerly Bligh's friend, is of little use to the captain, having fallen in love with a native girl himself. Christian becomes the leader of the mutiny virtually in spite of himself; and when the mutineers try to seek refuge on Tahiti, they find that the local chief wants no part of them, which is why they settle for the nearly uninhabitable Pitcairn.
News & Interviews for The Bounty
Critic Reviews for The Bounty
Audience Reviews for The Bounty
So for those who might be unaware, this movie recounts the actual events of the HMS Bounty and its crew in the year 1789. The movie is actually told in flashbacks from the perspective of William Bligh (Anthony Hopkins), the Commanding Lieutenant of the ship, during his court martial in England. History tells us that in 1787 the HMS Bounty set sail from England, destination Tahiti, with Bligh in command. The mission to collect breadfruit pods for transplantation in the Caribbean. During the course of the voyage everything is generally fine and dandy on-board, all shipshape and Bristol fashion. The Bounty reaches Tahiti in 1788 and is welcomed by the natives with open arms. The crew spend five months on the island (more than intended) and slowly became infatuated with the freedom and general carefree lifestyle the natives and their home offered. During this time Master's Mate Fletcher Christian falls in love and marries a native girl. When the time came to leave the island many crew members simply did not wish to, including Christian, which lead to obvious massive problems. Under a lot of pressure Bligh managed to whip the crew back into shape to continue their mission. Alas it wasn't long before Christian cracked and along with 18 crew members they took the ship and set Bligh adrift with his loyal supporters. The film follows the story in stages which are interspersed with small segments of Bligh's trial. Whilst watching I was actually surprised at how fast the plot moved. There is little to no time in England prior to the voyage, and then before you know it the ship has reached Tahiti with very little time at sea. Now this isn't a bad thing per say, the main crux of the film surrounds what happens on Tahiti and of course what follows so the film does skip along to those points. The only main bit of plot for the outgoing voyage is the attempt at rounding the Cape (Cape Horn), which fails due to the treacherous weather conditions. What we see for the first stage of the movie is essentially short bursts of character driven sections to show us who we are dealing with. Bligh is clearly a good fair man, a moral man who does actually care about his crews welfare. He simply wants nothing more than to successfully complete his mission and a personal goal of circumnavigating the globe, is that too much to ask? Fletcher Christian (Mel Gibson) is a family friend of Bligh. He appears to be an up and coming young naval officer in the making. Devoted to his role, his Lieutenant, well spoken and again fair and moral. Sailing Master John Fryer (Daniel Day-Lewis) is another young up and coming naval officer in the making. Much like Christian he is devoted to his work and superior, but is clearly more stern and happy to dish out punishments. Down below you had the usual rabble of able seamen that varied in personality and movie stereotype. Churchill (Liam Neeson) is the ship's Corporal, a brutish thug of a man that seemed quite happy to start a fight over very little. William Cole (Bernard Hill) the ship's Boatswain, very loyal to Bligh, could be seen as overly keen, a company man type fellow. John Smith (John Sessions) the meek ship's steward. Ned Young (Phil Davis), the quite calm Midshipman and weird Sting-esque looking fellow. Add various background sailor characters played by other British names such as Neil Morrissey and Dexter Fletcher. Of course visually the film is epic in scope, there's no question about that. The ship is shot from various angles throughout that are truly beautiful, sunsets on the skyline, approaching Tahiti , leaving Tahiti, cruising the ocean waves etc...Real locations used in French Polynesia along with New Zealand add authenticity along with the already authentic general look of the film as a whole. Yes this film most definitely offers a realistic and gritty-esque look at life on the high seas in the late 1700's. Yet at the same time somewhat overly romantic and sumptuous. Essentially this version of the classic incident offers more insight into the relationship between Bligh and Christian. Relatively close family friends at the start, Bligh offering Christian a good position on the voyage at his side, then promoting him midway. Its very interesting to watch Hopkins play this father figure of sorts to Gibson's Christian. Bligh clearly wants to help Christian go far in his career and shows on numerous times he is willing to hand out lighter punishments that might normally be far more serious. He would scold instead of flog, flog instead of hang. Its also interesting to watch Bligh observing his men in Tahiti as they frolic with the natives. One could assume he was jealous, and that could be a reason. But its far more logical to think he was concerned about how he would get his men back into the right frame of mind when it was time to leave. Its obvious to see that all the topless native women, sandy beaches, sunshine and apparent lack of work and discipline would be cause enough to keep Bligh up at night. At the same time Gibson's Christian is almost a bit of a non-entity in the movie. Obviously this is because the story is told from Bligh's perspective but its clear Gibson is merely added in to look pretty on the beach and in a uniform (which he does). Whilst Bligh has always been seen as a possible tyrannical monster in the history books, Christian was portrayed as a more heroic character breaking free to live his life. Dare I say a bit of a Romeo and Juliet situation. Well that is not what you see here. Gibson's Christian is a good man for sure, but young and easily influenced. Like some of the crew, having found a woman to bonk endlessly, getting tattooed, getting a tan etc...Its all too much for the impressionable young man. He rebels against his father figure, his position and basically goes off the deep end in a bit of a tantrum really. You can see it hurts Bligh deeply to see this, he tries to stop Christian by offering leniency when things go too far, he does try! But Christian had already made his mind up. Obviously its hard to know what really happened and what triggered all this. The film takes a certain direction and it does seem the most logical, we're all only human. Would an older, more experienced seaman be able to handle to temptations and look at the situation more sensibly? After all it was only Christian from the top ranks that mutinied, or got it all going. The lower ranking men had more of a reason seeing as they were treated like crap all the time. Its definitely Hopkins movie for the most part, his performance is big, bold and commanding (fancy that). We get the whole range from Hopkins, the softly spoken gentleman, the stoic leader, the angry father figure and now amusingly, the Hannibal Lecter grin complete with lots of glistening sweat at one point. As already said Gibson is pretty but not much else, he is totally outclassed by Hopkins at every stage. His one moment of real acting sees him kinda blow it frankly. When Christian takes the Bounty and holds a sword to Bligh, the overblown rants just come across as cringeworthy more than anything. You can see quite clearly, here is a man, a Hollywood star, who basically can't really act too well...unless its in some one-liner filled action flick. In the end Gibson's Christian comes across more like a spoilt schoolboy who sulks when he doesn't get his way. I mean come on, we all have those moments when you just wanna quit everything and run away to some idyllic location. But most of us are able to calm down and think rationally, put things into perspective. For a British production back in 1984 this is certainly a massive achievement, I didn't even know it was a British movie. The entire movie really has a glorious Hollywood feel to it, in a good way, but at the same time it can't escape cliches and stereotypes. Take a look at the native women on Tahiti, they all appear to be rather cute don't they. Long flowing dark hair, perky breasts, full lips, nice and slim, and apparently perfectly happy to have sex with all the sailors. The thing is most of these guys aren't much to look at and considering they've all been at sea for so long, I'd guess very dirty, smelly and unhealthy. But who cares! sex party on the beach everyone! The film also shows life on Tahiti as pretty absurdly sweet frankly. All Christian does all day is bonk, get tattooed and get lavished upon by his new bird. Its like no one on Tahiti does any work or anything. Plus none of the sailors ever appear ill or skinny or anything, you'd think they would be rather malnourished. Don't even go there with Gibson's Christian, the man is an Adonis at all times, the journey has zero affects on him. I must mention the score by the legendary Vangelis, of electronic orchestral musical fame ('Blade Runner', 'Chariots of Fire'). Even without knowing who composed the score you can tell straight off the bat its a Vangelis score. Those recognisable electronic chimes and haunting ethereal melodies that seem to touch your inner spirit. Now I will admit that at first I didn't like it, my reasons? well I just didn't think it fit the film. Firstly the score is very very similar to Vangelis' work on 'Blade Runner' I think. Secondly, because of its similarity to that particular futuristic score, it kinda felt out of place in an 18th century setting and a bit samey. However, after going back to the film to rewatch and listen, I can confirm that the score has indeed grown on me. 'The Bounty' is on one hand a bit special, the film is actually pretty darn accurate as far as I'm aware, bar the odd snippet. It goes by a version of events as recorded from Bligh's perspective, and does so very well. Whether or not that account is accurate or not, we will never know. However, far be it for me to take sides in the argument, what we see and what you can research does seem entirely likely. On the other hand (there's always another hand), the film is very much of its time (that being the 80's) with regard to certain stereotypes, the usage of pretty boy Gibson and the portrayal of the natives and their homeland. The film is completely engaging but at times a tad slow and very very obviously over romanticised, to the point of corny. Nevertheless this British movie is highly enjoyable from start to finish with relatively gritty realistic visuals, big performances and a sweeping tale of love and freedom.
Phil Hubbs
Super Reviewer
One of my fav adventure stories grandly told and with a grand cast. What adventure? Why nothing less than escape from the strictures of civilisation (seduced by what-is-still-the-dream: young, topless, and willing lasses in grass skirts, an adolescent fantasy for the ages, when wasn't this a fantasy?), back when there still was someplace to go to escape. Gibson, Olivier, Day-Lewis (nearly steals the film), and Neeson are all very good, but the film belongs to Hopkins as good ol' Cap'n Bligh, three cheers, men, hip, hip, hooray!
Kevin M. Williams
Super Reviewer
This movie is really good,i thoroughly enjoyed it. Its interesting and i must say antony hopkins is on top form with brilliant acting from him and the entire cast. Its a beautifully depicted and well wriitten movie thats worth the watch.
Film Crazy
Super Reviewer
The Bounty Quotes
| | |
| --- | --- |
| Lt. William Bligh: | Mr. Christain what is it? |
| Lt. William Bligh: | Mr. Christain, what is it? |
| Fletcher Christian: | Oh, it can wait Sir |
| Fletcher Christian: | Oh, it can wait Sir. |
| Lt. William Bligh: | What is is damn you |
| Lt. William Bligh: | What is is damn you. |
| Fletcher Christian: | The ship is sinking |
| Fletcher Christian: | The ship is sinking. |
| Lt. William Bligh: | Good |
| Lt. William Bligh: | Good. |