The Boys Next Door
(1986)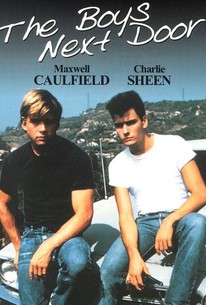 AUDIENCE SCORE
Critic Consensus: No consensus yet.
Movie Info
In this film, Maxwell Caulfield and Charlie Sheen are typical California teens freshly graduated from high school. Daunted by the prospect of the real world, the boys decide to go on one last fling in L.A. But it's not all clean, wholesome fun.
Critic Reviews for The Boys Next Door
All Critics (4) | Top Critics (1) | Fresh (4) | Rotten (0) | DVD (1)
a messy, dispiriting portrait of two rebels without a cause who go off the rails as they come of age, leaving only suffering and death in their wake.

...nails down a message decades ahead of its time; that the codes that bond men together may well be toxic both for women and for themselves...
Audience Reviews for The Boys Next Door
Penelope Spheeris' The Boys Next Door is a pretty good crime thriller starring a young Charlie Sheen in an impressive performance. The film starts off a bit too slow, but steadily builds up to a good final. This is not a perfect picture, but is nonetheless impressive in its acting, storytelling and directing, especially considering that director Spheeris would start making bland films after 1992's comedy classic Wayne's World, along with that film, this among her strongest efforts, and it's a shame her career in the 1990's would suffer the way it did, but at least she managed to make a few good film, and The Boys Next Door is one of them. The film could have been better in some areas, but for what it is, it's a well crafted picture that manages to be riveting from start to finish. If you enjoy a good crime drama, you're sure to enjoy this, it's not a great film, but it's a pleasant time waster for what it's worth. Charlie Sheen was far better as an actor in his younger years, and he displayed a charisma that just lights up the screen. I enjoyed the film for what it was, and though it may seem a bit dated, it still is worth seeing if you enjoy Sheen's early work. I felt that the story was good and that it could have been a bit longer. The biggest issue with this film is that it tries to compress way too much material into a short run time, therefore it falls short of it potential, and it never becomes the crime film that it deserves to be. Despite its imperfections, The Boys Next Door is a well crafted picture that is much better than you would think. But in the end, it could have been a great, memorable picture, nonetheless it's quite entertaining and like I've said, is worth seeing.
A good teenage drama based on real life serial killers. It really makes you more paranoid about people you might run into on the streets. Sheen and Caulfield are really good in this movie as the two troubled teens. And the ending is both realistic and satisfying. This is a good movie.
The Boys Next Door Quotes
There are no approved quotes yet for this movie.