Breathless
(1983)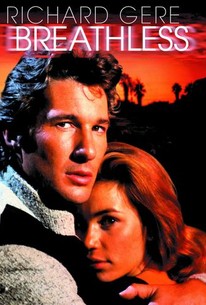 Movie Info
A botched attempt to remake Jean-Luc Godard's classic nouvelle vague entry, Á Bout de souffle, Breathless follows Jesse (Richard Gere), a fugitive wanted for the murder of a police officer. In the course of his flight from the law, he hitches up with a beautiful French college student (the stunning Valerie Kaprisky), and together the two attempt to escape to Mexico. From start to finish, Breathless places style over substance; the film is almost insufferably hip, although its hipness now seems more dated than a time capsule. More attention seems paid to wardrobe, set design and soundtrack than anything else, yet it lacks any of the stark visual impact the original managed to achieve. Gere is passable as the sociopathic killer (although he relies on shirtlessness to carry him through much of the film), but Kaprisky, though beautiful, demonstrates limited acting range.
News & Interviews for Breathless
Critic Reviews for Breathless
Audience Reviews for Breathless
½
My logical mind doesn't get what Monica sees in Jesse, but love isn't usually logical.
½
I'm not ashamed to say that I enjoy this version a lot more than John Luc Goddard's. I know this must seem like blasphemy to most, but this American counterpart is a lot more fun and worthwhile to me. I think the biggest improvement for me was Richard Gere taking the lead role. He's a great deal more likable and you actually care about him, rather than seeing him as an irredeemable asshole who kills random cops and has no respect for anyone but himself. I much prefer the Silver Surfer reading, Jerry Lee Lewis listening goofball. I'll be honest too, the color scheme in this movie is way too cool. Add that with some nice little changes from the original and it becomes a crazy blend of pop culture and a chase movie.
Conner Rainwater
Super Reviewer
½
A very good, steamy thriller about a man on the run who meets a beautiful girl and wants her to join him.
Breathless Quotes
There are no approved quotes yet for this movie.