Brewster's Millions
(1945)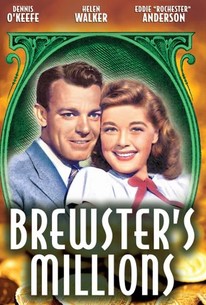 AUDIENCE SCORE
Critic Consensus: No consensus yet.
Brewster's Millions Photos
Movie Info
This film stars Dennis O'Keefe as the lucky recipient of an $8,000,000 inheritance. However, O'Keefe will receive his legacy only if he spends $1,000,000 in two months. Prohibited from giving the money away, O'Keefe invests in several losing propositions; alas, every one of his bad investments turns a profit.
Critic Reviews for Brewster's Millions
All Critics (1) | Fresh (1) | Rotten (0)
Allan Dwan's love of financial processes is on display in this farce, and his flair for mixing normal and surreally comic characters.
Audience Reviews for Brewster's Millions
½
This adaptation of the fairly ubiquitous play (up to this point in history) is a comedy classic that actually deals with the spendthrift attitude of a generation still livid towards the Great Depression, and equally appropriate towards our attitudes today, amidst our recession. The story concerns a returning GI from World War II named Montague (Monty) Brewster (O'Keefe). He wants to marry his dream girl Peggy (Walker) and start working to complete his vision of the American Dream. Shortly after arriving home Monty receives word from the estate of a long dead uncle, telling him he has inherited a million dollars. What he doesn't know is that there's an additional eight million dollars, and to get it he has to spend the million before his 30th birthday, which is in two months' time. The lesson is that spending money is not fun, and with Monty bound by secrecy to not tell anyone he knows about the venture, he also learns that money can lead to ruin and losing everyone you actually care about. It's an interesting and valid lesson, which makes the setup that much more inspired. On top of the great premise and elaborate set-up, there's the comedic aspect to the story. O'Keefe is perfectly cast as the "average Joe" who just wants to leave behind his time away, get his buddies some jobs, and marry his sweetheart. The ways in which he falls all over himself trying to juggle the lies his inheritance forces him to tell and keeping his fiancée happy keep you in stitches throughout. It's also entertaining to watch him try to spend all of his money, which may have been a bit harder to do in the forties than today with all our luxuries and careless spending. Brewster is also struck with good fortune on numerous occasions, which makes everyone around him happy while it may put himself in ruin, adding to the confusion and humor of the film. It stands the test of time and is one of the great American classic comedy films.
Spencer S.
Super Reviewer
"Brewster's Millions" is a film that has been made three times. Once, with Fatty Arbuckle in the 1920s, once with Richard Pryor in the 1980s (the one I remember from my childhood), and this here one from the 1940s. The numeric value of the inheritance has changed throughout the years (I'm sure if they made it today, Brewster would have to spend about a billion dollars), but the plot remains the same. Monty Brewster is broke, having in this instance just returned from WWII. The day he and his buddies arrive home, he receives word that he may already be a winner, of his uncle's inheritance, that is. Yes, Monty does get an inheritance, but in order to get the full $7 million, he must first spend $1 million (in just 2 months no less), the idea being that after being forced to spend all that money, he won't have any desire to waste the rest of it so wrecklessly. Did I mention he's not allowed to have any assets to show for all this spending? And he can't give it all away either. Oh, and he's not allowed to marry his poor, long-suffering fiance either. The rules keep piling up on Brewster, so that it's almost not worth the effort. "Brewster's Millions" is a farce, pure and simple. A purely ridiculous farce of a farce, where people run around doing ridiculous things. Brewster can hardly keep track of whether he's coming or going. To quote the theme song of the short-lived Comedy Central program, "The Benson Interruption", "it's funny, it's awkward, it's fawkward"
Devon Bott
Super Reviewer
Brewster's Millions Quotes
There are no approved quotes yet for this movie.