Broken Blossoms
(1919)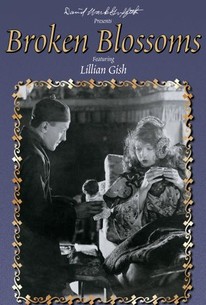 Movie Info
Based on "The Chink and the Child", a story by Thomas Burke, Broken Blossoms is one of D.W. Griffith's most poetic films. Richard Barthelmess plays a young Chinese aristocrat who hopes to spread the gospel of his Eastern religion to the grimy corners of London's Limehouse district. Rapidly disillusioned, Barthelmess opens a curio shop and takes to smoking opium. One evening, Lillian Gish, the waif-like daughter of drunken prizefighter Donald Crisp, collapses on Barthelmess' doorstep after enduring one more of her father's brutal beatings. Barthelmess shelters the girl, providing her with the love and kindness that she has never known. Crisp, offended that his daughter is living with a "heathen," forces the girl to return home with him. In a terrible drunken rage, Crisp beats Lillian to death. Barthelmess arrives on the scene, kills Crisp, then kneels beside Lillian's body and takes his own life.
Critic Reviews for Broken Blossoms
Audience Reviews for Broken Blossoms
½
First film released by United Artists. D.W. is directly credited as the writer on this one. Though the alternative title, many of the title cards, and the fact that the main character is only ever named The Yellow Man is/are definitely insensitive. Richard Barthelmess's performance is decidedly sensitive and rich. Despite Lillian Gish being a regular muse for Griffith, it is Barthelmess's character who we see first and last. It is a Romeo and Juliet story. Our young Chinese hero, who becomes a shopkeeper in London's Limehouse District, perhaps is named Cheng Huan, since that is what his shop is called, but I could be wrong. The movie opens in China with our hero preparing to travel to London to be a Buddhist missionary. You see all religions teach the Golden Rule and why shouldn't those from other cultures and religions teach westerners to live better lives. With Griffith's racist attitudes, the very ones that keep our hero in the slums and provide restrictions and threats, the idea of a Buddhist missionary having anything to bring to the west may not have been taken seriously. But again, on screen it appears Barthelmess is not forced to make the character a caricature. The story even has him chat with a Catholic priest, whose younger brother is going into the cloth and heading off for China to be a missionary there. Our hero finds this amusing. Is it a situation of give and take? No. It's more like take and take. Well, enough of that, this is really a tragic love story. Roughly twenty-six year old Lillian Gish plays fifteen year old Lucy. Of course that was the norm amongst actresses of the silent era. She was abandoned by her mother, who was possibly a prostitute, and left in the care of a brutish father, who didn't really want her. She lives a sort of Cinderella life. Her gorilla of a father, Battling Burrows (Crisp), is a boxer and he beats her. After one incident, she tries to escape and by chance stumbles to Cheng Huan's shop. He is kind and gentle to her. He nurses her back to health. Though he is tempted a couple times to kiss her, he refrains in order to keep the relationship pure. A nosy friend of Battling alerts him to the fact that his daughter is in the upstairs apartment of the dirty foreigner. The tension in the final act is high. The plot is not particularly unique, though it is somewhat satisfying in a tragic way. The actors perform with gusto and the cinematography glows in spite of fairly static pieces of scenery and camera angles.
Byron Brubaker
Super Reviewer
New-age films definitely get some of their retrospective ideas from films such as Broken Blossoms. With no dialogue present it has to be a powerful story in order to have such an impact of sheer enjoyment and emotions, and this film goes above and beyond all expectations. As an asian man comes to London from his hometown for personal reasons, but when he get's caught up in an ugly, father/daughter conflict, he takes in little 12 year-old Lucy to nurture her after the beatings of her raged "Boxing Champion" father. The only feelings he sees is romantic and he tries to come-on to Lucy even though she would have no idea what he is trying to do. This film is beautifully told, easily understandable, it has an amazing orchestra following it, and the conclusion will make your gut spin. Broken Blossoms has true meaning and it is a film that I will remember forever. D.W. Griffith has made a masterpiece and it may just be one of my favourite films of all time!
The attitudes of the film are of course wildly dated but taking that into account, something you really have to do to look at the film objectively, the story is sensitively told and the acting by the leads is touching. Also the use of different colors for different locations was a striking choice to set the mood of the piece.
Broken Blossoms Quotes
| | |
| --- | --- |
| London Policeman: | We may believe there are no Battling Burrows, striking the helpless with brutal whip - but do we not ourselves use the whip of unkind words and deeds? So, perhaps, Battling may even carry the message of warning. |