Bug
(1975)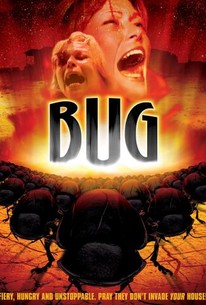 Movie Info
The last gasp of gimmick-horror auteur William Castle (who produced and co-wrote), Bug is an entertaining throwback to the mutant-monsters-amok theme of the 1950s (themselves throwbacks of another kind) that he found so profitable. The film stars Bradford Dillman as a kinder, gentler mad scientist who discovers the presence of a bizarre strain of mutant cockroach emerging from the earth after a severe earthquake. Although larger than the average beetle, the most disturbing aspect of the critters is their innate ability to ignite fires with their bodies -- a talent dramatically revealed after a few of the bugs crawl up a vehicle's tailpipe. When Dillman discovers that the creatures possess a group intelligence, he attempts to train and breed them -- which proves to be less than a good idea. In Castle's heyday, this would have proven an ideal theme for one of his patented gimmicks (perhaps having little rubber bugs drop from the ceiling onto unsuspecting patrons at appropriate moments), but director Jeannot Szwarc (who later helmed Jaws 2 and the hankie-fest Somewhere in Time) plays the story straight, with remarkably chilling results. This is also remarkably violent for a mainstream PG film (particularly in the scene where Bad Seed Patty McCormack's hair is ignited by the six-legged arsonists) with a downbeat ending typical of many horror movies of the '70s.
Audience Reviews for Bug
I was actually enjoying this one at first but it just grows tedious beyond belief. The dialogues become a snore fest, the plot moves nowhere and it just doesn't go over the top like it could've. It also has a way too serious tone for a movie that is, essentially, about bugs that set shit on fire with their asses.
Francisco Godinho
Super Reviewer
Bug Quotes
There are no approved quotes yet for this movie.