Bus Stop
(1956)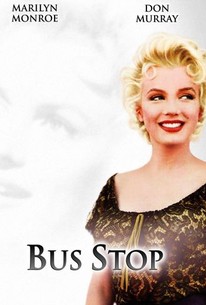 Movie Info
Though it seems dated now, this film adaptation of William Inge's romantic comedy-drama was considered pretty hot stuff in its day, which was 1956. Directed by Joshua Logan from George Axelrod's script of Inge's Broadway hit, the film stars Marilyn Monroe as the kind of woman who can't understand why she always brings out the worst in men. A singer who has attracted the attention of a young rodeo rider (Don Murray) whom she meets on a bus, she finds herself trapped at a bus stop in the middle of nowhere during a blizzard. The young cowboy, whose intentions are honorable, can't control his temper and can't understand why this experienced woman won't take him seriously--and why she rejects him when he begins acting jealous and possessive. Love takes its lumps but comes out slugging in the end, with Marilyn at her vulnerable, jaded best. --Marshall Fine
Critic Reviews for Bus Stop
Audience Reviews for Bus Stop
½
It should actually be listed as "inspired by Inge's play", not "based on" since it throws just about everything from the source material out the window. Monroe is uncharacteristically unglamorous for almost the whole movie, which is the only interesting thing about it.
Alec Barniskis
Super Reviewer
I saw a stage play version of this before seeing the film. Compared to the bus stop/diner set that the stage play is locked into, this movie spends very little time in the title location. There are major characters cut and a few minor characters added as we witness Cherie's and Bo's roller-coaster relationship. Beauregard 'Bo' Decker (Murray) and his mentor Virgil 'Virge' Blessing (O'Connell) leave their ranch in Montana for a rodeo in the big city of Phoenix. Virge tries to keep Bo focused, but Bo is extremely naive about big city ways. Cherie, the chanteuse, is another great creation for Marilyn Monroe. Monroe proves she knows what she is doing by dumbing down her singing and dancing abilities. Bo instantly falls in love with Cherie and drags her along to watch him win the rodeo. It is interesting to see Cherie realize she is in over her head, rather than just seeing the aftermath at the bus stop. The writing and performances are fun. There are many laughs as Bo thinks he can handle Cherie like he does cattle and Cherie, the dumb blonde, begins to discover a bit of her self-worth. Eventually we arrive and are snowed in at the bus stop. Here Cherie and Bo must sort out their feelings.
Byron Brubaker
Super Reviewer
Bus Stop is a somewhat entertaining hillybilly love story between Beau, a stubborn, romantically-inexperienced cowboy in town for the rodeo, and Cherie, a showgirl he meets along the way. Love is a foreign concept to Beau, so when he finally finds it, he comes on a little strong, demanding her hand in marriage within twenty four hours. Strangely enough, what makes this classic painful to watch is also the same thing that makes it somewhat watchable. That thing is Marilyn Monroe. I love Monroe, I really do. She was great in her minor role in All About Eve, and she may very well have been the best thing about Some Like It Hot, but it seems evident to me that her acting abilities are (were?) very limited, especially when she attempts to stray away from her ditzy blonde routine. I could tell that she tried hard, but she just couldn't handle that southern accent. However, despite her slightly irritating performance, some how she's still likeable. I think she's the only person that can make an intolerable performance... tolerable. The story itself is only mildly interesting. It has its moments, but for the most part it's melodramatic and predictable. The direction and script are both decent, but not anything to write home about. Bus Stop passes as light entertainment, but isn't anything I'd want to rewatch again. It certainly isn't essential viewing unless you're a diehard Marilyn Monroe fan.
Brandon Williamson
Super Reviewer
Bus Stop Quotes
There are no approved quotes yet for this movie.