Buster
(1988)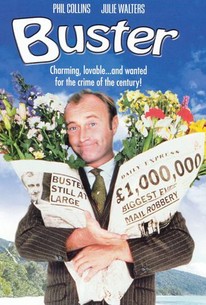 AUDIENCE SCORE
Critic Consensus: No consensus yet.
Movie Info
On August 8, 1963, the Royal Mail train, on its nighttime run from London to Glasgow, was robbed by 15 men who got away with 2.6 million pounds (today the equivalent of $35 million). Buster tells the story of one of the junior robbers, Buster Edwards (played by pop singer Phil Collins), in a crime that came to be known as the Great Train Robbery. The film details the planning of the famous heist, but its main concern is Buster's relationship with his family and his devotion to his wife June (Julie Walters). The Edwards are like a British Kramden family, trying to make ends meet from day-to-day in their rental apartment, but instead of a bus driver, Buster is a two-bit thief who has the fine luck of hardly ever getting caught. After the Royal mail train robbery, the heat intensifies, since the Conservative Government, already smarting from the Profumo scandal, latches onto the train robbery as a means to deflect attention from the scandal by bringing the train robbers quickly to justice. Buster and June go into hiding and have a series of close calls before finally escaping to Mexico. Finally in paradise, the Edwards find their money quickly being eaten up and discover that they cannot adapt to the Mexico milieu. June, for her part, is homesick, and Buster, always ready to keep her happy, makes the grand gesture -- to return to England and turn himself in to the police.
Critic Reviews for Buster
All Critics (4) | Top Critics (1) | Fresh (3) | Rotten (1)
Buster is played with surprising effectiveness by rock star Phil Collins, who looks and sounds like a gentler Bob Hoskins.

Singer Phil Collins, who plays the lead in this British heist movie, was nominated for the Best Song Oscar.
Audience Reviews for Buster
½
Phil Collins plays Buster Edwards in the film, it's not a role that suits him and he really couldn't act (as much as I love him). The soundtrack is amazing though.
Sylvester Kuo
Super Reviewer
its not my sort of movie, it felt like a very long movie and i found it dragged in the middle which made the movie even more boring! its an okay drama but doesnt give enough for it to be an enjoyable movie!
Film Crazy
Super Reviewer
The Phil Collins movie where he both supplies the soundtrack and fills the lead role. A cheesy but loveable British 80s classic about the Great Train Robbery, set in my home locality.
Ross Collins
Super Reviewer
Buster Quotes
There are no approved quotes yet for this movie.