Butch Cassidy and the Sundance Kid
(1969)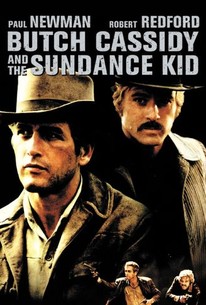 TOMATOMETER
AUDIENCE SCORE
Critic Consensus: With its iconic pairing of Paul Newman and Robert Redford, jaunty screenplay and Burt Bacharach score, Butch Cassidy and the Sundance Kid has gone down as among the defining moments in late-'60s American cinema.
Butch Cassidy and the Sundance Kid Videos
Butch Cassidy and the Sundance Kid Photos
Movie Info
Opening with a silent "movie" of Butch Cassidy's Hole in the Wall Gang, George Roy Hill's comically elegiac Western chronicles the mostly true tale of the outlaws' last months. Witty pals Butch (Paul Newman) and Sundance (Robert Redford) join the Gang in successfully robbing yet another train with their trademark non-lethal style. After the pair rests at the home of Sundance's schoolmarm girlfriend, Etta (Katharine Ross), the Gang robs the same train, but this time, the railroad boss has hired the best trackers in the business to foil the crime. After being tailed over rocks and a river gorge by guys that they can barely identify save for a white hat, Butch and Sundance decide that maybe it's time to try their luck in Bolivia. Taking Etta with them, they live high on ill-gotten Bolivian gains, but Etta leaves after their white-hatted nemesis portentously arrives. Their luck running out, Butch and Sundance are soon holed up in a barn surrounded by scores of Bolivian soldiers who are waiting for the pair to make one last run for it. ~ Lucia Bozzola, Rovi
Critic Reviews for Butch Cassidy and the Sundance Kid
Audience Reviews for Butch Cassidy and the Sundance Kid
½
A disappointing hippie Western that is too light for its own good and errs in tone by diluting the urgency of the story with a tongue-in-cheek humor and endless landscape shots that make it painfully slow - not to mention how hard it is to care about its one-dimensional characters.
Carlos Magalhães
Super Reviewer
½
Fantastic dialogue, but, wow, this movie is a direct rip-off of Arthur Penn's BONNIE AND CLYDE.
Kevin Cookman
Super Reviewer
It may have only big name actors, but at it's core, it's pure hollywood storytelling at it's finest. I was so completely focussed on each character, that by the time each action scene occurred, it was the last thing that was interesting on the screen. The dialogue, the acting, and the scenery are all perfect representations of a western town, and the story is so brilliantly told that it held a smile on my face for the entire duration of the film. It is beautifully shot, but not quite perfectly edited, I did feel the need to voice my opinion on some edits, but overall, this is a near perfect western that I can watch over and over again, even if it does stray away from it's known formulas for most of the film, but that is why I found it so unique. "Butch Cassidy and the Sundance Kid" is easily of my favourite films. Definitely worth it's praise!
Butch Cassidy and the Sundance Kid Quotes
| | |
| --- | --- |
| Butch Cassidy: | I don't want to sound like a sore loser, but when it's over, if I'm dead, kill him. |
| The Sundance Kid: | With pleasure. |
| | |
| --- | --- |
| Butch Cassidy: | Let's you and me jump in that river. |
| | |
| --- | --- |
| The Sundance Kid: | I'll do anything you want me to but I won't watch you die. |
| | |
| --- | --- |
| Etta Place: | I won't watch you die... |