Calamity Jane
(1953)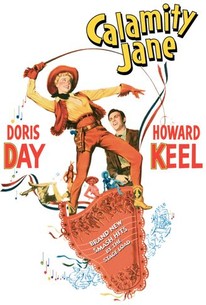 Movie Info
Doris Day looks no more like the real Calamity Jane than you or I do, but this 1953 film is intended as a lighthearted musical, not a historical tract. As portrayed by the freckled Ms. Day, Jane is a rootin', tootin' shootin' hoyden in the western town of Deadwood. When she isn't tearing up the town, Jane spends her time cussing out Wild Bill Hickok (Howard Keel). The plot gets under way when Jane promises the citizens of Deadwood that she can persuade classy Chicago stage star Adelaide Adams (Gale Robbins) to perform at the local opry house. Through a case of mistaken identity, Jane brings Adelaide's maid Katie (Allyn Ann McLerie) back to town. Katie proves to be a success all the same, and out of gratitude promises to make a "lady" out of Jane, who is sweet on handsome Lt. Gilmartin (Philip Carey). When the lieutenant chooses Katie over Jane, our heroine is heartbroken--until she realizes that she has loved Wild Bill Hickok all along, and that the feeling is mutual so far as Hickok is concerned. The peppy musical score by Sammy Fain and Paul Francis Webster includes the Oscar-winning Secret Love, which became a million-selling hit for Doris Day.
Critic Reviews for Calamity Jane
Audience Reviews for Calamity Jane
There's no subterfuge here: this is a Doris Day musical, plain and simple, and she's in practically every scene as a personification of wild and wooly (but not too wild...it was made in the 50's after all). After killin' Injuns - which, honest to goodness, really is a plot point - what she really wants is what every girl is told she wants: a husband, two car garage - with two cars in it, kids, and a yard with a white picket fence. Only she's so wild and wooly that no man can stand in her presence long. What's a girl to do? Howard Keel plays Wild Bill Hickok and barely gets in a song or two as the primary love interest. Mild musical Western fun here, with Day contributing 110%.
Kevin M. Williams
Super Reviewer
Doris Day is on a role with this role. The songs, oh the songs. Howard Keel... The old west. The humour. The fun. The action. Oh how I love this film!
Sarah Burton
Super Reviewer
½
rootin tootin and rambunctious
Calamity Jane Quotes
There are no approved quotes yet for this movie.