Call of the Wild
(1972)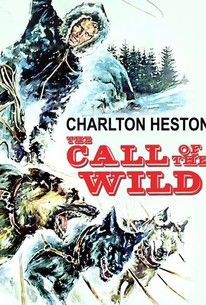 AUDIENCE SCORE
Critic Consensus: No consensus yet.
Movie Info
Filmed in Finland, this adventure, based on the tale by Jack London, is about the friendship between a gold seeker and a stolen, domesticated sled-dog in Alaska.
Critic Reviews for Call of the Wild
There are no critic reviews yet for Call of the Wild. Keep checking Rotten Tomatoes for updates!
Audience Reviews for Call of the Wild
½
Buck is stolen from his home in California and sold to a group of men who abuse him and eventually sell him as a sled dog. Beaten and broken for weeks by a number of different owners of sled-dog teams Buck was almost dead when he was bought and put into the service of John Thorrnton and his partner Pete's dog team. With John & Pete's kind and tender handling of him Buck became the lead sled dog and the most powerful and at the same time feared dog in the Yukon Territory. Although he was stolen a number of times from John, and was once almost shot and killed by the local bootlegger, Buck always managed to escape and return home to John & Pete. But later the dog begins to yearn for his home in the wild where he developed a strong friendship with his distant descendants, the wild wolves in the area. Torn between his two kind and caring human masters and his wolf family Buck can't quite bring himself to break away from the two persons he love to live in the wild. This is a story of fate and of personal choices ending with a dramatic climax!
Companionship, friendship, loyality. The three words to describe the movies theme but i have three words to describe the entire movie; kind, constructed well, lack of a cast. The Call of the Wild was very kind hearted to show what man's best friend is and how it was built about an expedition but it wasn't exactly the type of cast i wanted it to have. B+: Really good. Plot: Our story begins with John Thornton (Charlton Heston) on his expedition to the Klondike in search of the lost mine and it's famous gold, he was not troubled about the freezing and snowy winterstorm of Canada, but he was determined to make it there. However, all that changed when he met Buck, a smart and beautiful canine companion in the grasp of an abusive lifestyle. Little of what John will do for the poor guy, he takes him in his care and the journey of the wild will begin. Performance: One little problem about the movie was the lack in a cast, few little people were known i this movie and i was impressed with the script and the characters but i was not impressed on how they could have some lazy producers too slow to think ahead of real actors. Writing: I would rather turn this script to Hollywood legends like Robert De Niro or Dustin Hoffman or maybe Marlon Brando to offer htem a chnace to redeem themselves even bigger back then. Productions: Not sure what kind of words i should choose for the budget but i think i have to say is that they should have done a better job at the actors, they should have put in more glimmer stars instead. Finalize: I would prefer this to people who really love this type, the type of friendship and powerful binds, but if you're looking for a good actor to root for; guess again.
Etan Velarde
Super Reviewer
Call of the Wild Quotes
There are no approved quotes yet for this movie.