Camille
(1936)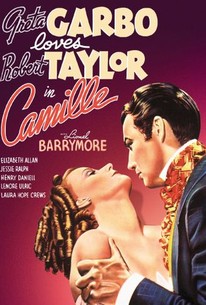 Movie Info
The essence of Alexandre Dumas' lush romantic tragedy has never been as beautifully or faithfully captured as it is in this gorgeous MGM version that stars the extraordinary Greta Garbo in her finest hour as the doomed French kept woman who falls in love with a dashing young soldier. To be with him, she leaves the married baron who has supported her for many years, a fact she neglects to tell her new beau. The depth of her love for this man surprises her, for in the past the love of money overshadowed her more human qualities. Unfortunately, the youth's father knows about her past and demands that she stop seeing his son. Camille, wanting only what is best for him makes this sacrifice and spurns him and returns to the unpleasant baron. Soon afterward, the poor love-struck woman dies of consumption.
Critic Reviews for Camille
Audience Reviews for Camille
Alexandre Dumas's courtesan falls for a rising nobleman, but her fast ways might bring shame on her new love. This is a strong adaptation of a classic story, but never has Dumas's pedantic and establishment moralism been more apparent than here. The high society morals are upheld in Camille's sacrifice, and though it's a tragedy of manners, it nonetheless seems to support the ideals of its time. Overall, Garbo and Robert Taylor give very strong performances in this adaptation of a classic novel that deserves an author ahead of his time.
Jim Hunter
Super Reviewer
Based on the play by Alexandre Dumas, "Camille" tells the story of Marguerite (Garbo), a woman who rises to the upper crust of parisian society through the many wealthy men she seduces. Her latest conquest, Baron de Varville, is perfectly content to keep his trophy in the manner to which she's accustomed, but he feels no more passion towards her than any other object he owns. Armand (Robert Taylor) has loved Marguerite from afar, but his lack of money at first leaves her cold. It takes a trip out to the country, to a little farm like the one she grew up on, for her to realize what he means to her and what love can be. Enter Armand's father (Lionel Barrymore). He tells Marguerite of just how harmful an influence she is for Armand and convinces her to leave him. It's a tale of social politics and star-crossed lovers, very well done with classic performances (Greta Garbo was nominated for an academy award for her performance). A romantic tear-jerker, if you like that sort of thing.
Devon Bott
Super Reviewer
A touching story, but the movie doesn't make it as exciting as it sounds.
Camille Quotes
| | |
| --- | --- |
| Madame Barjon: | For the lady of the camillias. And they're almost twice as large as usual. |
| Marguerite Gauthier/Camille: | I shall have twice as many tomorrow |
| Prudence Duvernoy: | Twice as many! Oh, don't listen to her, Barjon. I know what those things cost. |
| Madame Barjon: | Doesn't she listen when she orders her hats and dresses from you? |
| Prudence Duvernoy: | They're an investment! |
| Marguerite Gauthier/Camille: | Of course I order too many hats and too many dresses and too many everything, but I want them. |
| | |
| --- | --- |
| Olympe: | I knew I was too happy! |
| | |
| --- | --- |
| Marguerite Gauthier/Camille: | Cows and chickens make better friends than I've ever met in Paris! |
| | |
| --- | --- |
| Marguerite Gauthier/Camille: | I always look well when I'm near death. |