Captain Blood
(1935)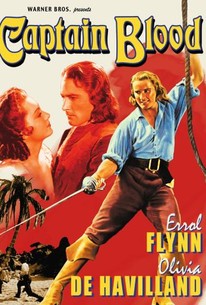 Movie Info
This film is set during the oppressive reign of King James II. Irish physician Peter Blood is condemned to slavery in Jamaica. Here he earns privileges after treating the governor for gout; this does not rest well with the owner of the plantation on which Blood is forced to work.
News & Interviews for Captain Blood
Critic Reviews for Captain Blood
Audience Reviews for Captain Blood
michael curtiz vigorously directs young unknown Australian actor Errol Flynn's first leading role in what would bring pirating adventure as a genre full to the public's eye. And the heat generated between he and fellow star and relative unknown Olivia de havilland would last Warner Brothers good for many pictures to come. Even rousing if seen today after the big money Disney outings.
Kevin M. Williams
Super Reviewer
½
'Jack Sparrow' you say?? Errol's first big role and a darn good one at that. Looking dashing, your typical cutlass wielding buccaneer, along with the gorgeous Havilland (at her sexiest) and good old Basil Rathbone, 'Blood' is a rousing adventure with dueling, romance and some pretty excellent looking galleon battles too. The costumes and effects are tremendous for such an old film, it looks really authentic, the dialog is brilliant with the olde English terms and phrases, all of this really gets you into the pirate mood perfectly me hearties. The first pairing of Havilland and Flynn began a dream team that lasted for many films, all classic, and again in this you can see why. Both look good together and they were always cast in roles that just suited them (period of course) Havilland was always better at the acting side if you ask me, Flynn was kinda wooden really but he was a mans man. Top film in all areas and with a sword fight between Rathbone and Flynn that matches the 'Robin Hood' one for moves, looks and excitement. If only they made films now like this one.
Phil Hubbs
Super Reviewer
If you love pirate movies and the stars of the 30s, you'll enjoy this movie. It has a lot of good actors, it's exciting, and hey it's a pirate movie! How could you not like this movie? Sure, it's not too spectacular, but it's got it's charm. I enjoyed it.
Captain Blood Quotes
There are no approved quotes yet for this movie.