Captains Courageous
(1937)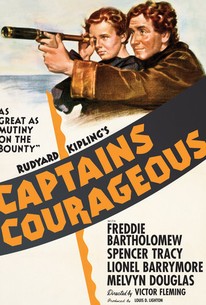 Captains Courageous Photos
Movie Info
A boy learns life-changing lessons about the importance of friendship and the dignity of labor in this adventure saga based on a story by Rudyard Kipling. Young Harvey Cheyne (Freddie Bartholomew) is the working definition of a spoiled brat; the only child of a wealthy widowed businessman, Harvey has everything he needs, but never stops asking for more, convinced he can get anything if he yells, pouts, or throws the right tantrum. Even other boys his age are disgusted with his antics, and when he accompanies his father on an ocean cruise, he finds he has no friends to play with. After wolfing down six ice-cream sodas, Harvey gets sick to his stomach and while vomiting over the side of the ship, he falls into the drink. He is rescued by Manuel (Spencer Tracy), a Portuguese old salt who drags him on board a Gloucester fishing boat where he's a deck hand and doryman. Harvey shows no gratitude to Manuel for saving his life and demands to be taken home immediately; Manuel and the crew, not the least bit sympathetic, inform him that once they've filled the ship's hold with fresh catch, they'll return to shore, and not a moment sooner. Over the next few weeks, Harvey grows from a self-centered pantywaist into a young man who appreciates the value of a hard day's work, and in Manuel he finds the strength, guidance, and good sense that he never got from his father. Spencer Tracy earned an Academy Award for his performance in Captains Courageous and even sings a bit; the story was parodied years later (with a few rather drastic changes) in the Chris Elliott vehicle Cabin Boy.
Critic Reviews for Captains Courageous
Audience Reviews for Captains Courageous
A great adventure story of the sea that's not about adventure per se but work, hard work. A spoiled rich kid finds himself on a fishing vessel for 3 months where he must earn his keep and his Daddy's money cuts no mustard. He is taken under wing by a boisterous Portuguese fisherman (Spencer Tracy) who teaches the kid by mere proximity life lessons about responsibility, pride in a job well done, simple joy in life, as well as the transformative powers of respect. The seafaring scenes alone are dramatic.
Kevin M. Williams
Super Reviewer
½
First of all I don't like animal related movies, but I do like pirate movies, which is really weird, I know. Second, this movie is really long. It starts out interesting, but gets more and more boring as it goes on. I didn't see the end because I was tired of watching this movie.
Spencer Tracy did not think this a great performance, but he won the 1937 best actor Oscar. I have to agree with Tracy's evaluation, but it doesn't detract from the fact that this is a wonderful movie. It's a great coming of age story, and Freddie Bartholomew deserves at least equal praise for not sinking this into sentimental slosh. In fact the entire cast, from Melvyn Douglas, to Lionel Barrymore, to Mickey Rooney, to John Carradine, all deserve high praise for a masterful ensemble effort. One of the best movies I've seen in a good while. Strangely, the director, Victor Fleming, was not nominated for an Oscar. He should have been. It takes a skilled director to so beautifully coordinate such a wealth of talent.
Lanning : )
Super Reviewer
Captains Courageous Quotes
There are no approved quotes yet for this movie.