Casablanca
(1942)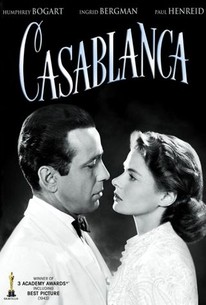 TOMATOMETER
AUDIENCE SCORE
Critic Consensus: An undisputed masterpiece and perhaps Hollywood's quintessential statement on love and romance, Casablanca has only improved with age, boasting career-defining performances from Humphrey Bogart and Ingrid Bergman.
Movie Info
One of the most beloved American films, this captivating wartime adventure of romance and intrigue from director Michael Curtiz defies standard categorization. Simply put, it is the story of Rick Blaine (Humphrey Bogart), a world-weary ex-freedom fighter who runs a nightclub in Casablanca during the early part of WWII. Despite pressure from the local authorities, notably the crafty Capt. Renault (Claude Rains), Rick's café (C) has become a haven for refugees looking to purchase illicit letters of transit which will allow them to escape to America. One day, to Rick's great surprise, he is approached by the famed rebel Victor Laszlo (Paul Henreid) and his wife, Ilsa (Ingrid Bergman), Rick's true love who deserted him when the Nazis invaded Paris. She still wants Victor to escape to America, but now that she's renewed her love for Rick, she wants to stay behind in Casablanca. "You must do the thinking for both of us," she says to Rick. He does, and his plan brings the story to its satisfyingly logical, if not entirely happy, conclusion. ~ Robert Firsching, Rovi
Critic Reviews for Casablanca
Audience Reviews for Casablanca
½
This undeniable classic is always charming and irresistible, even if far from perfect - the characters, for instance, do not always act consistently with their personalities. But we'll always have the love, the classic lines, the timeless scenes and that unforgettable tune.
Carlos Magalhães
Super Reviewer
Rick is slowly rotting away from the inside out, an ex-pat American holed up in some dusty foreign dump of a African town filled with stinking immigrants and more every day, barely holding on to his sanity, boozed through and through, as World War 2 like a feral zombie (in a Nazi uniform), is eating European civilisation away, when the woman who left him cold back in Paris shows up with her new guy in tow, the girl of his dreams. What happens next is Hollywood history and always a pleasure to watch unfold, again and again (the truest mark of a classic).
Kevin M. Williams
Super Reviewer
Wartime cafe owner Humphrey Bogart's life is turned upside down when the woman who broke his heart walks into his bar with her husband, a fugitive from the Nazis, looking for an escape to America. This is one of those films the phrase "they don't make 'em like that anymore" was invented for. At its core it is a propaganda film made to encourage the American public to join the fight against the Nazis, but it is far from the usual heavy handed flag waver. It skillfully interweaves the patriotic message with political intrigue, wartime heroics and romance with a script full of wit and sophistication. The cast are all pretty much faultless, but it is the uneasy friendship between Bogart and the brilliant Claude Rains which makes the film, and their cynical interplay and banter is a joy to behold. Beautifully shot with so many unforgettable lines, this film consistently features in lists of the top 10 of greatest movies ever made, and rightly so.
Casablanca Quotes
| | |
| --- | --- |
| Maj. Heinrich Strasser: | What is your nationality? |
| Rick Blaine: | I'm a drunkard. |
| Capt. Louis Renault: | That makes Rick a citizen of the world. |
| | |
| --- | --- |
| Rick Blaine: | Last night we said a great many things. You said I was to do the thinking for both of us. Well, I've done a lot of it since then, and it all adds up to one thing: you're getting on that plane with Victor where you belong. |
| Ilsa: | But, Richard, no, I... I... |
| Rick Blaine: | Now, you've got to listen to me! You have any idea what you'd have to look forward to if you stayed here? Nine chances out of ten, we'd both wind up in a concentration camp. Isn't that true, Louie? |
| Capt. Louis Renault: | I'm afraid Major Strasser would insist. |
| Ilsa: | You're saying this only to make me go. |
| Rick Blaine: | I'm saying it because it's true. Inside of us, we both know you belong with Victor. You're part of his work, the thing that keeps him going. If that plane leaves the ground and you're not with him, you'll regret it. Maybe not today. Maybe not tomorrow, but soon and for the rest of your life. |
| Ilsa: | But what about us? |