Casino Royale
(1967)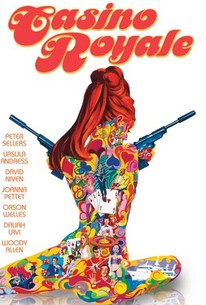 TOMATOMETER
AUDIENCE SCORE
Critic Consensus: A goofy, dated parody of spy movie clichés, Casino Royale squanders its all-star cast on a meandering, mostly laugh-free script.
Movie Info
This James Bond spoof features the hero coming out of retirement to attempt to fix some problems for SMERSH, while a multitude of other subplots unwind about the central figure. David Niven stars, while a host of well-known actors populate the screen.
News & Interviews for Casino Royale
Critic Reviews for Casino Royale
Audience Reviews for Casino Royale
EightThirty .
Super Reviewer
Okay, I've only rated one film on this website at 0.5 stars, and that was "Transformers: Revenge of the Fallen." In my opinion, it's the worst mainstream film ever made. This film is a close second. For those of you who are confused by the idea of a "Casino Royale" film in the 60s, here's a brief history. Basically, 2 production companies had the rights to different Bond books to adapt to the screen. One was run by Albert Broccoli who made "Dr. No" and cemented Sean Connery as a sexy sexy man. The other was still in the process of developing "Casino Royale" and seeing that they couldn't directly compete with Sean Connery, decided to make their film into a spoof of Bond. The result is this disaster that manages to star some of the most talented minds in Hollywood (Peter Sellers, Woody Allen, and ORSON WELLES) and ended up being a money blackhole. So, what exactly is wrong with it? IT'S THE MOST INCOHERENT THING I'VE EVER SEEN (And I'm a fan of Terry Gilliam). It feels like 5 different movies stitched into one film (which it essentially is, considering it had 5 different directors, most who went uncredited at the fear of the film's reputation destroying there careers). Speaking of uncredited crew, you ever heard the expression "Too many cooks spoil the broth?" This film is the embodiment of that. Only 3 writers receive credit. The other SIX didn't want to be associated with the film. You read that right. This film had NINE writers during its development, including Hollywood legend Billy Wilder (Sunset Boulevard and a million other movies in the 50s and 60s). Some people really think this is funny considering the time period. This isn't an excuse. "The Silencers" was a James Bond spoof released one year after this film and its infinitely funnier. In fact, it has one gag that had me on the floor laughing. "Casino Royale" only made me laugh twice during its TWO-AND-A-HALF-HOUR RUNTIME. "The Silencers" was an hour shorter, and infinitely funnier. In total, this is one of the worst films I've ever seen. Only watch it as a retrospect on how badly the development of a film can go.
Jacob Ethington
Super Reviewer
½
Bizarre madcap comedy that isn't really that funny, but has a great taste. In the vein of later comedy masterpieces like Blazing Saddles, but with none of the humor. The cast is fantastic and everyone gives great performances, but the film itself just isn't very good.
Tim Salmons
Super Reviewer
Casino Royale Quotes
| | |
| --- | --- |
| Jimmy Bond/Dr. Noah: | My doctor says I can't have bullets enter my body at any time. [Woody Allen as Jimmy Bond] |