The Cat and the Canary
(1927)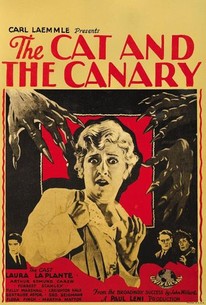 The Cat and the Canary Photos
Movie Info
Creaky, but enduring expressionistic suspenser is the classic "old dark house" movie as sundry characters converge at an ominous mansion for the reading of a will. Remade three times in the sound era, this silent version starring Laura LaPlante is considered the definitive rendering. Beware of inferior prints.
Critic Reviews for The Cat and the Canary
Audience Reviews for The Cat and the Canary
This isn't just one of those average murder mysteries where the family vies for the inheritance of the old man's will, it's actually got ghosts and a ghoulish hand creeping everyone out, and a guy who's on the look out for a maniac that escaped from the loony bin. This movie is creepy and funny, I enjoyed it, and I recommend it.
The Cat and the Canary Quotes
There are no approved quotes yet for this movie.