Catacombs
(1988)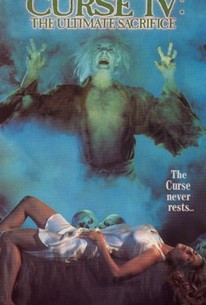 AUDIENCE SCORE
Critic Consensus: No consensus yet.
Movie Info
Despite the tendency of the Curse films to bear absolutely no relation to each other, this is perhaps the only film in that series to involve an actual curse. It's also one of the better installments. The curse in question is leveled upon the 16th-century monks of San Pietro by a demonically-possessed man, just prior to his being sealed alive in the catacombs beneath the Abbey. His curse plagues the monks' embittered modern-day descendants, who toil under the strict guidance of Father Marinus (Jeremy West). When an American schoolteacher (Laura Schaefer) comes into their midst to explore the sealed catacombs, Marinus fears the worst: not only does the woman represent a powerful temptation to the repressed brothers, but her tamperings with the 400-year-old seal threaten to unleash the horror lurking behind it. His fears are, of course, well-founded, and the demonic attacks begin. Frequent Charles Band collaborator David Schmoeller directs this demon-possession opus with surprising subtlety, eschewing gore effects and Exorcist-style weirdness in favor of a pervading atmosphere of dread, weighed down only slightly by a rather talky script.
Critic Reviews for Catacombs
All Critics (1) | Fresh (1) | Rotten (0)
Catacombs a.k.a Curse IV: The Ultimate Sacrifice packs its runtime with Gothic religious history and explores the Roman Catholic Church's repression of desire and sexuality.
Audience Reviews for Catacombs
A demon who has been imprisoned in a monastery for centuries awakens. For a Charles Band production, this is serious and expensive, with a few effective demonic sequences, a good score and well-defined characters; unfortunately it loses the audience's interest in a slow-developing middle portion and never recovers.
Catacombs Quotes
There are no approved quotes yet for this movie.