Charly
(1968)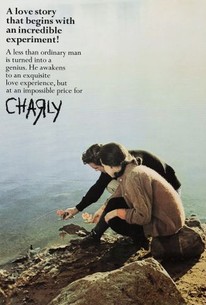 Movie Info
This TV adaptation of Daniel Keyes' story Flowers for Algernon) features Charly, a 30-year-old mentally retarded bakery worker. When a neurosurgeon and a psychiatrist ask Charly to participate in an experiment, Charly becomes a genius, but the change turns out to be only temporary.
Critic Reviews for Charly
Audience Reviews for Charly
A mentally retarded bakery worker is given a treatment that makes him smart. The most striking problem with this film is the incredibly unnecessary and distracting psychedelic sequences that interrupt the story. With bright colors and freeze-frames, the film briefly becomes a music video before returning to the plot. Ignoring these sequences, the film still suffers because the central question of the story and the source material is whether being smart makes one a better person or happier. The film doesn't seem to care about the ethical dilemmas associated with the doctors' treatment or the effects on Charley. Rather, we get maudlin nonsense and a ham-handed love story that has none of the passion or chemistry that - for example - the love story in My Left Foot features. Overall, this film may be a victim of its psychedelic times, but that isn't the only thing holding it back from its potential.
Jim Hunter
Super Reviewer
Charly lives because Cliff Robertson is incredible. His performance makes the film just so brilliant in a sense, and I loved him. The films itself has a great message and I enjoyed it.
Bradley Wright
Super Reviewer
½
I enjoyed the book Flowers for Algernon when I read it in grade school, but seeing it on the screen was a disappointing experience. They changed things for the worse, and the actors were bad, and they had some weird psychedelic stuff in there. I wouldn't recommend seeing this movie.
Charly Quotes
There are no approved quotes yet for this movie.