China Gate
(1957)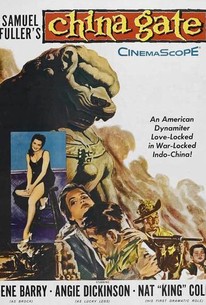 AUDIENCE SCORE
Critic Consensus: No consensus yet.
Movie Info
A U.S. soldier of fortune (Gene Barry) teams up with his activist wife (Angie Dickinson) to lead a party of French Foreign Legion troops on a mission to destroy an ammo dump held by the Communist Chinese in Vietnam. The tension between the two grows as they get closer to the prime objective. This film was the first to deal (indirectly, to be sure) with the Vietnam conflict.
Critic Reviews for China Gate
All Critics (2) | Fresh (2) | Rotten (0)
Though not one of Samuel Fuller's best films, it's still worth seeing as an early Hollywood drama-actioner about Indo-China and for Angie Dickinson, who became a star a year later.
Both the overloaded heroic war drama and the heavy-handed romance narrative have an air of phoniness.
Audience Reviews for China Gate
In "China Gate," it is 1954. And with the French about to be unceremoniously kicked out of Vietnam once and for all, they intend to give the Communists one last explosion to remember them by. To do so, they want blow up an ammo dump. So, they recruit Lucky Legs(Angie Dickinson) who can get them through an enemy checkpoint. She wants her son to be sent to school in America in return. They agree, even if it is awkward to have Sgt. Brock(Gene Barry) commanding the mission, as he is the father of her child who had rejected him due to his Asian heritage. In any case, it is Goldie(Nat King Cole) who volunteers to carry the volatile triggers Even in hindsight, it might seem tone deaf to dedicate a movie about Vietnam to France.(I wonder if Jean-Luc Godard ever saw this one.) But due to Samuel Fuller's film making prowess that owes somewhat to journalism, sensitive yet hard boiled, his film "China Gate" does not end up being the unintentional laugh riot that John Wayne's "The Green Berets" turned out to be. Overall, "China Gate" is a fairly entertaining action movie with a couple of neat touches. For example, not only does Fuller call out the lead character for his racism but also makes a provocative move in 1957 with a soldier who is black, highly competent, brave, resilient and well-armed.
China Gate Quotes
There are no approved quotes yet for this movie.