Cleopatra
(1934)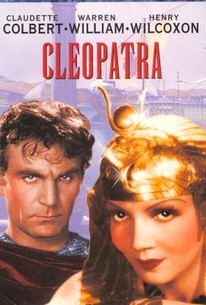 Movie Info
In this film, Queen Cleopatra uses her feminine wiles to become sole ruler of Egypt. By turns kittenish and cold-blooded, Cleopatra wraps such otherwise responsible Roman worthies as Julius Caesar and Marc Antony around her well-manicured little finger.
Critic Reviews for Cleopatra
Audience Reviews for Cleopatra
For a DeMille pageant film this one is not too over the top with Claudette suitably seductive in the lead although the 1930's eyebrows are a distraction. The production design and costumes are the real attraction here. Not a great film, not terrible but if you are looking for full on DeMille debaunchery cloaked in piety watch The Sign of the Cross instead.
For my money the best cinematic Cleo, baby, Cleo, and the reason is the sensuous, languorous smoky turn given by Claudette Colbert who, along with the ever conspicuous DeMille, conspire to seduce us into sublime and decadent oblivion ... and it doesn't seem as bad as my preacher says it is. Opulence that makes Liz come off as a frumpy housewife at a golf club social.
Kevin M. Williams
Super Reviewer
The only reason to watch this movie is for Colbert. Otherwise, it's just the same old story we've seen over and over in other movies about Cleopatra, nothing new.
Cleopatra Quotes
There are no approved quotes yet for this movie.