Cornered
(1945)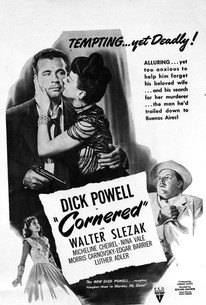 AUDIENCE SCORE
Critic Consensus: No consensus yet.
Movie Info
Canadian WW II pilot Gerard (Dick Powell) intends to track down and kill collaborationist Marcel Jarne, the man responsible for the wartime death of Gerard's French wife. The trouble is, Jarne has never been effectively identified by the authorities -- and in fact could be just about anyone whom Gerard meets. Following the trail of evidence to Buenos Aires, Gerard's strongarm methods run afoul not only of the Argentine authorities, but also of a pro-French underground movement which also wants to bring the villain to justice. Weaselly Incza (Walter Slezak) plays all sides down the middle until he too is ruthlessly rubbed out by the bad guy. From start to finish, Cornered is a superb thriller, directed with graphic ingenuity and economy -- and with a dash of endearingly naïve left-leaning politicizing. (With Edward Dmytryk as director, how could it be otherwise?) Avoid at all costs the computer-colored version of this beautifully photographed black-and-white film.
Critic Reviews for Cornered
All Critics (4) | Fresh (4) | Rotten (0) | DVD (1)
Murder, My Sweet gave a Raymond Chandler story the combination of skinned knuckles and big-city sentience proper to it; Cornered, without losing much if any force as melodrama, is much more elaborate, self-assured, and ambitious.
...basically, we have a revenge plot, with a reckless, impetuous man willing to go to any lengths to find the man he's after.
A humorless, no-nonsense revenge thriller directed by Edward Dmytryk and produced by Adrian Scott.
Audience Reviews for Cornered
½
one aspect of film noir (in 1940s, the post-war period) focuses on the WWII veterans' ill-adjustments traumatized by the loss the war has caused them, usually taken place in foreign landscape that even thickens the feel of alienation, story complicated and spiced up by the trickeries and cconspiracies from the crooked spies . "cornered" is that sort of film noir, which concentrates upon the individual's disorientation affected by the war. i supoose that sort of bereavement is less universal than other noirs like maltese falcon, the big sleep or murder, my sweet which put more emphases on the grassroot americans' angsts over society and the injustice induced by society's super-structure (the elite and aristocrats, or just the filthy rich),,,thus "cornered" may just possess much less public appeal due to its narrowed themes, but it also has a crisp outlandish feel which transcend itself into a kafkaesque state, which reflects how in general the war has crippled a man's sense of complete self and avidly motored into the course of revenge. cornered, as the title suggests, is a movie about a veteran who aspires to take revenge on his wife's murderer, and his need for vegence drives him into a strange city in argentina, where he gets himself cornered.orson wells' "the third man" might have some paralleled points with "cornered" since the american protagonist in both films recklessly stumbles his way to investigate the truth he assumes he's entitled to learn despite the damage of harmony he has inflicted upon the foreign town where he inhabits. (why movies always portray american cocky in this way? it's like, i wanna do the thing i think it's right and i don't give a damn to your standards of values.)...but joseph cotton (in third man) does it due to his complacent assumption of himself or he does it to get his friend's woman in the name of hot-headed chivalry, and he is just a detective novelist who thinks he could really solve a criminal case due to his vast experiences on writings.. dick powell here has a more justified course of doing it: he wishes to expose his wife's murderer. the film lacks the poignant cynicism "the third man" has toward...ok, the notion of americanism...on the contrary, it casts somehow more sympathetic light, kinda like the oppositional compensation to the third man. and it's also quite honest in the dialogues: the man even confesses he doesn't exactly recall what his wife used to look like but the brief memories of the warmth and solace she has brought him during the war is enough for him to mourn for her deeply. also, the other reason cornered might not be so contagiously intriguing is the abscence of femme fatale. yes, it may have sinister woman in fancy dress to entrap the protagonist in a crime-scene, but the dosage is so feeble that it doesn't provide any stimulus to really stir up the indigenuous sexual antagonism between man and woman in extreme circumstances of life. (i suppose, that could be the best pleasure people get from noir.) in some ways, it could be noir, but in some other ways, it's not so sheer noir. in a nutshell, cornered is a decently made post-war drama shot in elaborated chiascuro. and it might surpirse you to a mild degree that it was directed by the same man who made "murder, my sweet" (starring dick powell as philip marlowe and claire trevor as the femme fatale)..if you're a really careful-minded film-viewer who pays attention to the styles of cinematography, you would immediately learn the resemblances of camera-angles and photographies these two movies have. cornered is like a black coffee to awaken you in the morning by laying bare of all the sorrows within the deprived people which are usually contained in the post-war noir, but the director or the scriptor just forget to (or just reluctant to) put any sugar in it. in other words, they don't add any other stuff which usually gives noir a titlating aura. (like sexual anatagonism...okay, i seem to focus on sex a lot..ha) but who says black coffee ain't also tasty sometimes?
Veronique Kwak
Super Reviewer
Cornered is a decent representation of film noir, just not a shining example. Dick Powell plays a bull in a chinashop trying to get revenge on he man responsible for the deaths of not only his wife, but his French resistance fighter friends. Dick Powell is decent in the role but I just never really rooted for him. The plot is a series of screw jobs and double crosses that goes on a little too longer than it needs to but Edward Dmytryk's direction is solid and is probably the only real standout here. Well, Nina Vale didn't hurt, either...
Michael Gildea
Super Reviewer
Cornered Quotes
There are no approved quotes yet for this movie.