Cover Girl
(1944)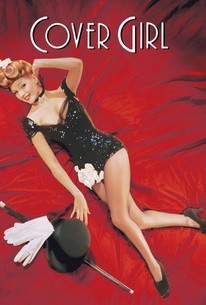 Movie Info
Thanks to its Jerome Kern/Ira Gershwin/Yip Harburg score and the luminescence of stars Rita Hayworth and Gene Kelly, Cover Girl has taken on a legendary status in recent years. In truth, the film has a banal and predictable premise: a chorus girl (Hayworth) is given a chance for stardom by a wealthy magazine editor (Otto Kruger), who years earlier had been in love with the girl's mother. Offered an opportunity to be a highly-paid cover girl, our heroine would faithfully remain with her tacky nightclub act if only the club manager (Kelly), whom she pines for, would ask her. He loves her too, but doesn't want to stand in her way, so he fakes an argument to send her packing. You don't need a crystal ball to known that the girl and her guy will be reunited for the finale. Phil Silvers, everybody's best friend, and Eve Arden, Kruger's acid-tongued assistant, provide comic relief. The story sags badly at times, but the fans went home happy thanks to the powerhouse musical numbers, including Long Ago and Far Away and Kelly's famous "alter-ego" dance. The film skyrocketed both Hayworth and Kelly to superstardom, and didn't do Silvers any harm, either. Cover Girl is an extraordinarily lavish Technicolor production from the usually parsimonious Columbia Pictures.
Critic Reviews for Cover Girl
Audience Reviews for Cover Girl
I love this movie! Especially Gene Kelly's graceful leap into fantasy with the mirrors number. Rita Hayworth proves a surprisingly apt match for the magnificent Kelly (my husband).
Jennifer Xu
Super Reviewer
I really love Rita Hayworth. He is great! So is gene kelly (as always.)
Morgan Salem
Super Reviewer
½
I think there's still a place for some of this in today's cinema. The musical numbers were too long, but that dancing on the street was a lot of fun. Think of what they could do with that Gene Kelly dancing with himself scene today. Now I know what all the fuss was about in Shawshank. Rita Hayworth is a fox.
Cover Girl Quotes
There are no approved quotes yet for this movie.