Dakota
(1945)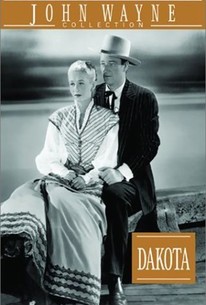 AUDIENCE SCORE
Critic Consensus: No consensus yet.
Movie Info
John Wayne and Vera Hruba Ralston star as John and Sandy Devlin, young marrieds struggling to survive in Dakota territory. A footloose gambler, Devlin gets involved with a bitter railroad dispute, finding himself in the middle between a group of homesteaders and a gang of land-grabbing crooks. The film is chock full of fast action sequences (a wheatfield fire is a standout!), which nearly compensate for the performance of Vera Hruba Ralston, who is duller than usual here. Adding zest to the proceedings is the presence of frequent Wayne cohorts Ward Bond and Walter Brennan-not to mention Mike Mazurki, bizarrely cast as a fancy-dan saloon hall proprietor. Eagle-eyed viewers will spot future Baretta star Robert (Bobby) Blake as a dewy-eyed kid.
Critic Reviews for Dakota
All Critics (2) | Fresh (0) | Rotten (2)
A weak adventure featuring John Wayne (before he became a star), mostly known today for its unsuccesful effort of making Czech Vera Raltson a Hollywood star.
Audience Reviews for Dakota
It feels like a long lost Howard Hawks movie, almost every one of his trademarks is present. The one man army, Walter Brennan, catchy dialogue and just about everything else. I would say the only problem is that the movie's just too short. These are great characters that I would've loved to see mature over a larger story. John Wayne is his trademark self, unstoppable and the most noble man in a sea of outlaws and criminals. Walter Brennan is hilarious as always, probably one of the greatest comedians to ever live. Ward Bond does a good job as an extremely manipulative villain, it's a shame he never played too many.
Conner Rainwater
Super Reviewer
Dakota Quotes
There are no approved quotes yet for this movie.