Dangerous Liaisons
(1988)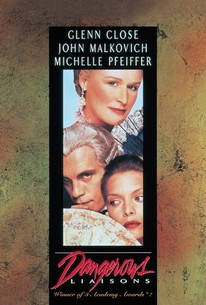 Dangerous Liaisons Photos
Movie Info
Adapted for stage and screen several times over the past century, French author Francois Choderlos de Laclos' 1782 novel Les Liasons Dangeureuses was the basis for this Academy Award-winning Stephen Frears film. The plot is motivated by a cruel wager between the beautiful but debauched Marquise de Merteuil (Glenn Close) and her misogynistic former lover, the Vicomte de Valmont (John Malkovitch). The Marquise challenges Valmont to seduce the virginal Cecile de Volanges (Uma Thurman) before the girl can be wed. Valmont offers a more difficult counter-challenge: He bets the Marquise that he will be able to bed the very moral and very married Madame de Tourvel (Michelle Pfeiffer). In the course of carrying out his plan, Valmont is stricken with a sudden case of honor and remorse, while the Marquise becomes all the more vicious. ~ Hal Erickson, Rovi
Critic Reviews for Dangerous Liaisons
Audience Reviews for Dangerous Liaisons
½
I love France in this time.... pretty dresses. I found it very intriguing and seductive. Proves once more Glenn Close is astonishing and that Keanu Reeves actually has had a good role in his life. WOW.
Jennifer D
Super Reviewer
good plot JOHN MALKOVICH is a strange actor... he kept the same face the entire time!!! he never showed emotion evan when he died!
Morgan Salem
Super Reviewer
½
This is basically Elizabeth, if Elizabeth were an old slutty manipulatress. I know it's a good movie and technically impressive and all that shit that bodice-rippers always are, but these films always deal with the exact same themes. "lol the hidden strength of a woman" "lol the heart plays by no rules" "lol even the most dignified man is still a beast" Come on, now. Mix things up a little bit. The highlight of the film remains John Malkovich, a chilling sociopath who's out to ruin as many lives as possible just for personal challenge. His performance is a study in how to properly exude inexpressiveness - the perverse, confused smiles, and the declarations of love that are totally hollow even when he doesn't mean them to be. It is almost terrifying. Glenn Close is also capable, though the character is no new take on the Imperial Dragon Lady. Uma Thurman and Michelle Pfeiffer fade away, the latter especially surprisingly considering she picked up a Supporting Actress nod. And Keanu Reeves...*sigh* That performance in The Gift is looking more and more like a fluke every day. Anyway, Dangerous Liaisons isn't bad. It's just nothing special. Another example of the Oscars drinking the Period Piece Koolaid. There's a bit of humor, and a bit of nastiness and a bit of violence and a whole lot of lust, and it makes the movie watchable but nothing even remotely near art or auteurial. If you're not totally sick of these films yet, I guess this is a good place to go.
Drew Smith
Super Reviewer
Dangerous Liaisons Quotes
| | |
| --- | --- |
| Vicomte De Valmont: | But it is always the best swimmers who drown. |
| | |
| --- | --- |
| Vicomte De Valmont: | You are a genuinely wicked woman. |
| | |
| --- | --- |
| Marquise De Merteuil: | When it comes to marriage, one man is as good as the next. |
| | |
| --- | --- |
| Marquise De Merteuil: | "War" |
| Marquise De Merteuil: | War. |