The Dark Mirror
(1946)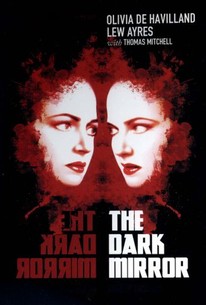 Movie Info
Olivia De Havilland, with the assistance of some eye-popping special photographic effects, plays twins in The Dark Mirror. One twin commits a murder: The "good" twin is blamed, but provides no alibi in her own defense, since she can't believe that the "bad" twin is guilty. Psychologist Lew Ayres and detective Thomas Mitchell try to get to the truth, a task made difficult by the bad twin's habit of imitating her sister to perfection. Ayres solves the mystery and sorts out which twin is which, but not before nearly ending up on a slab in the morgue himself. Based on a novel by Vladimir Pozner (the same), The Dark Mirror was remade for television in 1984, with Jane Seymour in the lead--er, leads.
Critic Reviews for The Dark Mirror
Audience Reviews for The Dark Mirror
½
a favorite theme in hollywood, the freudian saga of the good/evil twins, made more enjoyable by one of olivia de havilland's best performances. one wonders if she drew on her well known rivalry with real life sister joan fontaine
Stella Dallas
Super Reviewer
A good thriller in which twins are suspected of a crime. There have been other films like this later, but it's still a good movie.
The Dark Mirror Quotes
There are no approved quotes yet for this movie.