Darling
(1965)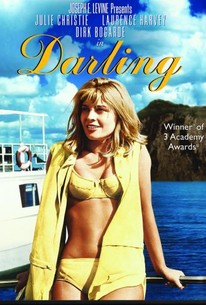 Movie Info
'Darling' is said to have all the elements like love, action and entertainment is sure to attract masses from all age groups with Prabhas giving an impressive performance in the film.
Critic Reviews for Darling
Audience Reviews for Darling
Am I the only one that thinks Julie Christie is alarmingly obnoxious in this role? Her voice is sometimes grating on the ears. But the mod 60s fashion is always one that attracts me, and this movie's style is really what's working for it.
Jennifer Xu
Super Reviewer
Had never heard of this 60's film, but I have to say it was pretty good. I loved the stylish black and white film, the 60's fashions and hairstyles and I found the story and character of Diana interesting, although the film was very long, and a bit repetitive at times (not to mention confusing, trying to keep straight which man was which!). Julie Christie plays social climbing Diana Scott, very beautiful and spoiled and used to getting her own way. Not the most likeable character, she goes through the film using and manipulating men to further her career and get her standing in life. Well, it makes a change from men using women, I guess. I would imagine this film would have been controversial in it's time. There's a lot of sex in this, though none of it graphic, or particularly shocking, although I guess the swingers parties are meant to be. (Tame by todays standards!). By the time the movie ends, she has increased her status no end, but she is miserable, and I guess you could say got what she deserved, although I did feel some sympathy for her, then felt like a mug for feeling so, as she was obviously just putting on the crocodile tears.
Nicki Marie
Super Reviewer
½
'All lies are truth at a time.' This film has been unfairly criticized for the amorality and avarice of its main character, the heavy-handedness of direction, and datedness. These 'faults' are actually the film's strengths. The glass motif emphasizes the transparency, impenetrability, separateness and emptiness of the sweet life in sixties London. Decadence is never unfashionable; Image is character.
Stefanie C
Super Reviewer
Darling Quotes
There are no approved quotes yet for this movie.