Dawn of the Dead
(1979)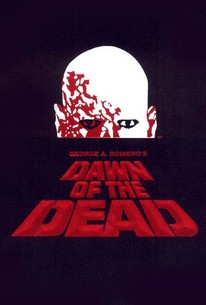 TOMATOMETER
AUDIENCE SCORE
Critic Consensus: One of the most compelling and entertaining zombie films ever, Dawn of the Dead perfectly blends pure horror and gore with social commentary on material society.
Movie Info
Viewers who haven't seen George Romero's low-budget horror masterpiece Night of the Living Dead, might be at a loss during the first sequences of Dawn of the Dead. The opening scenes rely so much on familiarity with the earlier film that it might cause resentment among the uninitiated. But once the story gets started, plot and exposition matter not a whit. Dawn is set in a deserted shopping mall, where the ever-increasing zombie contingent from the first film have set up a sort of Condominium for the Condemned. From this vantage point, the flesh-eating creatures plan to overtake the entire country. There's a lot of allegory and hidden meaning around, but Tom Savini's excellent (and unremittingly gruesome) special effects take center stage throughout. Dawn of the Dead is not recommended for those who have trouble keeping their popcorn down.
News & Interviews for Dawn of the Dead
Critic Reviews for Dawn of the Dead
Audience Reviews for Dawn of the Dead
In this excellent sequel, Romero replaces the ghastly, oppressive black and white of the original film with some very entertaining and gruesome gore in color full of humor and clever social satire. A classic zombie horror film that stands out as an intelligent allegory.
Carlos Magalhães
Super Reviewer
George A. Romero's sequel to the game changing mega-hit "Night of the Living Dead," this film has the same political undertones, and also subtle ruminations in consumer culture. Unlike the original, this film only deals with the exploits of four people, who trap themselves inside a mall and live off its resources. The original was much more about the epidemic, and the terror of ghouls rampaging through the wilderness. The urban setting shows the vacancy of man-made structures without human residency, and the ease with which we as Americans consume and find pleasure in spaces such as malls. Our heroes fall back into lives of luxury and convenience, though they are faced with horrors, because they are programmed to do so, as are the zombies who return to the mall based on their baser instincts. Riveting to watch because of how massive and impressive the film is, but also for the creativity of the story, "Dawn of the Dead" is a classic zombie film that tells a very human story.
Spencer S.
Super Reviewer
Some say this is Romero's best work. Me, well, I'm undecided. This is an excellent film though, and not just in horror circles. You can never go wrong with intelligent social commentary and satire, especially when mixed with great (albeit somewhat dated) gore effects. Despite coming out a decade after Night of the Living Dead, this sequel treats things as if only a few days or so have passed. In that time, the zombie outbreak has become incredibly widespread. A group of survivors (a diverse lot professionally, racially, and genderwise) take refuge in a shopping mall where they barricade themselves in and kick all zombies (and others) out. This is where the film gets interesting. The mall is a larger setting than the previous film's farmhouse, but is still a great place full of all sorts of possibilities and claustrophobia. What I find really interesting is how this film is a satire/social commentary railing against malls, consumerism, and greed, and came out at a time when shopping malls were really new to the world. I love that this films is a brilliant blend of humor, satire, gore, and zombies. Humor is not the focus, but the levity is a necessary element that provides a unique spin on the zombie apocalypse stuff. I can't really think of anything this film gets wrong. The direction, performances, makeup/sfx, music, and camerawork are all terrific. I did say that the effects are dated, but in a way, their garishness actually adds to the atmosphere and enhances the mood, satire, and 70s decor. This is an essential film in multiple categories, so don't hesitate to check it out.
Chris Weber
Super Reviewer
Dawn of the Dead Quotes
| | |
| --- | --- |
| Peter: | When they is no more room in hell the Dead will walk the earth. |
| | |
| --- | --- |
| Peter: | When there is no more room in Hell, the dead will walk the Earth. |
| | |
| --- | --- |
| Roger: | We got this man, we got this by the ass! |
| | |
| --- | --- |
| Roger: | Bastards, you bastards! We got 'em, didn't we? We got this, man! We got this by the ass! |