The Day the Earth Stood Still
(1951)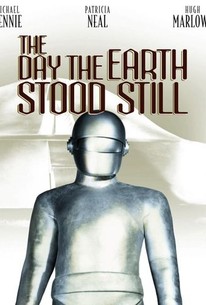 TOMATOMETER
AUDIENCE SCORE
Critic Consensus: Socially minded yet entertaining, The Day the Earth Stood Still imparts its moral of peace and understanding without didacticism.
The Day the Earth Stood Still Photos
Movie Info
All of Washington, D.C., is thrown into a panic when an extraterrestrial spacecraft lands near the White House. Out steps Klaatu (Michael Rennie, in a role intended for Claude Rains), a handsome and soft-spoken interplanetary traveler, whose "bodyguard" is Gort (Lock Martin), a huge robot who spews forth laser-like death rays when danger threatens. After being wounded by an overzealous soldier, Klaatu announces that he has a message of the gravest importance for all humankind, which he will deliver only when all the leaders of all nations will agree to meet with him. World politics being what they are in 1951, Klaatu's demands are turned down and he is ordered to remain in the hospital, where his wounds are being tended. Klaatu escapes, taking refuge in a boarding house, where he poses as one "Mr. Carpenter" (one of the film's many parallels between Klaatu and Christ). There the benign alien gains the confidence of a lovely widow (Patricia Neal) and her son, Bobby (Billy Gray), neither of whom tumble to his other-worldly origins, and seeks out the gentleman whom Bobby regards as "the smartest man in the world" -- an Einstein-like scientist, Dr. Barnhardt (Sam Jaffe). The next day, at precisely 12 o'clock, Klaatu arranges for the world to "stand still" -- he shuts down all electrical power in the world, with the exception of essentials like hospitals and planes in flight. Directed by Robert Wise, who edited Citizen Kane (1941) and The Magnificent Ambersons (1942) for director Orson Welles before going on to direct such major 1960s musicals as West Side Story (1961) and The Sound of Music (1965), The Day the Earth Stood Still was based on the story Farewell to the Master by Harry Bates. ~ Hal Erickson, Rovi
Critic Reviews for The Day the Earth Stood Still
Audience Reviews for The Day the Earth Stood Still
½
An intelligent and challenging science-fiction classic that makes elegant allusions to Jesus Christ's life (even in the character's alias, Carpenter) and speaks directly to the audience in the end defending the importance of non-aggression in a time dominated by fear.
Carlos Magalhães
Super Reviewer
An interplanetary traveler visits Earth to dissuade humans' violence and paranoia. As science fiction classics go, this one is up there among the best. Yes, it's moralistic, and its main character gets a little preachy at the end, but most good science fiction uses an extraordinary event to comment upon the ordinary, and The Day the Earth Stood Still's comment resonates today. The performances are a little choppy and over-rehearsed. Michael Rennie sounds like he's reading his lines out of a phone book, and Patricia Neal went to damsel school and graduated with high honors. But all of it is tempered by that classic movie pace and a strong story. Overall, science fiction when done well looks like this.
Jim Hunter
Super Reviewer
A surprisingly mature 50's sci-fi movie. Manages to get across its social messages without coming across as preachy. The cast does a great job with the material given to them, Michael Rennie is fabulous as Klaatu. The visuals are very good for the time and the film also contains some really gripping suspense scenes. A very touching sci-fi tale that still holds up to this day.
Christopher Heim
Super Reviewer
The Day the Earth Stood Still Quotes
| | |
| --- | --- |
| Klaatu: | I am leaving soon, and you will forgive me if I speak bluntly. The universe grows smaller every day, and the threat of aggression by any group, anywhere, can no longer be tolerated. There must be security for all or no one is secure. Now, this does not mean giving up any freedom except the freedom to act irresponsibly. Your ancestors knew this when they made laws to govern themselves and hired policemen to enforce them. We of the other planets have long accepted this principle. We have an organization for the mutual protection of all planets and for the complete elimination of aggression. The test of any such higher authority is, of course, the police force that supports it. For our policemen, we created a race of robots. Their function is to patrol the planets—in space ships like this one—and preserve the peace. In matters of aggression, we have given them absolute power over us; this power can not be revoked. At the ?rst sign of violence, they act automatically against the aggressor. The penalty for provoking their action is too terrible to risk. The result is that we live in peace, without arms or armies, secure in the knowledge that we are free from aggression and war—free to pursue more pro?table enterprises. Now, we do not pretend to have achieved perfection, but we do have a system, and it works. I came here to give you these facts. It is no concern of ours how you run your own planet. But if you threaten to extend your violence, this Earth of yours will be reduced to a burned-out cinder. Your choice is simple: Join us and live in peace, or pursue your present course and face obliteration. We shall be waiting for your answer; the decision rests with you. |
| Klaatu: | I am leaving soon, and you will forgive me if I speak bluntly. The universe grows smaller every day, and the threat of aggression by any group, anywhere, can no longer be tolerated. There must be security for all or no one is secure. Now, this does not mean giving up any freedom except the freedom to act irresponsibly. Your ancestors knew this when they made laws to govern themselves and hired policemen to enforce them. We of the other planets have long accepted this principle. We have an organization for the mutual protection of all planets and for the complete elimination of aggression. The test of any such higher authority is, of course, the police force that supports it. For our policemen, we created a race of robots. Their function is to patrol the planets?in space ships like this one?and preserve the peace. In matters of aggression, we have given them absolute power over us; this power can not be revoked. At the first sign of violence, they act automatically against the aggressor. The penalty for provoking their action is too terrible to risk. The result is that we live in peace, without arms or armies, secure in the knowledge that we are free from aggression and war?free to pursue more pro?table enterprises. Now, we do not pretend to have achieved perfection, but we do have a system, and it works. I came here to give you these facts. It is no concern of ours how you run your own planet. But if you threaten to extend your violence, this Earth of yours will be reduced to a burned-out cinder. Your choice is simple: Join us and live in peace, or pursue your present course and face obliteration. We shall be waiting for your answer; the decision rests with you. |
| | |
| --- | --- |
| Klaatu: | We have come to visit you in peace, with good will. |
| | |
| --- | --- |
| Klaatu: | I am fearful when I see people substituting fear for reason. |
| | |
| --- | --- |
| Helen Benson: | Gort! Klaatu barada nikto! |