Days of Wine and Roses
(1962)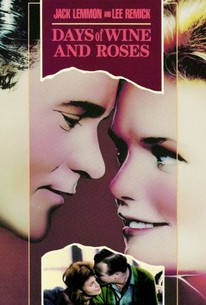 Days of Wine and Roses Photos
Movie Info
This thoroughly depressing drama concerns the battles of a young couple against the insidiousness of alcohol addiction. Joe (Jack Lemmon) and Kirsten (Lee Remick) are young newlyweds with a seemingly bright future. Joe is an up and coming public relations worker with a promising career. When the pressures of the job become too much, he takes solace inside a bottle of booze. Kirsten joins the party in order to relate to her husband, and the two get down to some brain cell killing, liver damaging drinking that would make F. Scott Fitzgerald and W. C. Fields blush. Joe's career takes a decidedly downward turn, losing his job as the couple continues to tip more than a few. They move in Kirsten's father, who owns a greenhouse. After a night of drinking, Kirsten reveals she hid a bottle hidden under one of the greenhouse plants. In a terrifying scene, Joe tears up all the plants trying to unearth the hidden bottle, ruining his father-in-law's budding plants. Joe also goes through withdrawals in a mental hospital in yet another disturbing scene of horrible alcohol addiction. He seeks help from a 12 step group, but Kirsten can't shake the grip of demon alcohol. By now, the couple has a young daughter, and a sober Joe realizes he may have to leave the woman he loves when she becomes hopelessly addicted. The title song by Johnny Mercer and Henry Mancini won an Academy Award. while Lemmon and Remick received well deserved nominations for their gripping portrayals of the tortured couple whose lives are ruined by booze.
Critic Reviews for Days of Wine and Roses
Audience Reviews for Days of Wine and Roses
An alcoholic and his wife struggle to give up the drink. This classic film brims with authenticity primarily because of the performances by Jack Lemmon and Lee Remick. Though he has a few comic moments and scenes in which his character's drunkenness allows him to use comedic physical work, Lemmon creates scenes of moving verisimilitude as Joe Clay. He's at times charming and at others thoroughly tortured. Remick, likewise, is completely lost in the world of alcohol, and her drunken moments are absolutely believable, rarely descending into caricature. The film is superbly constructed, disposing of all the connective tissue and leaving us with only the elements necessary to tell the story. Blake Edwards's direction is pitch-perfect. During the second act, there are a few scenes that seem like a public service announcement for AA. As a drunkard, not an alcoholic, I don't know if all AA meetings begin with the convener reading the organization's list of principles, but regardless, this section seemed false to me. Overall, The Days of Wine and Roses is a fantastic, moving drama about the ravages of alcoholism that stands as one of Jack Lemmon's finest performances.
Jim Hunter
Super Reviewer
½
This film has two things going for it: Lemmon's wonderful acting and Edward's camera work. Other than that the film does not earn the emotion that it is attempting to generate. The audience is taken through the developing relationship and subsequent alcohol drenched years at such a brisk pace that it is really hard to get a feel for these characters. What should be a gripping masterwork regarding addiction feels more like a really well acted commercial for AA. Taking into account how groundbreaking this film must have been upon it's release in 1962, I cannot say the film is a bad. It just hasn't aged well.
Well that was upbeat! I must say that this topic in the early 60s is an original idea. It very well showed an average couple and how drinking became the relationship's vice and then the relationship. Powerfully acted and horribly depressing. Especially if you're an occasional drinker.
Jennifer D
Super Reviewer
Days of Wine and Roses Quotes
There are no approved quotes yet for this movie.