Dead Heat
(1988)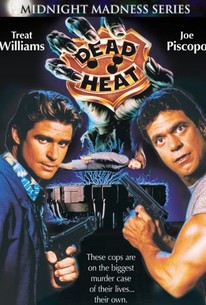 Movie Info
Roger Mortis and Doug Bigelow are cops that are chasing crooks that are dead serious about crime. Or should I say they are chasing dead crooks perpetrating serious crimes? Seems some nutcase has learned how to bring back the dead and is sending them on crime sprees. Now these indestructable goons are in the way of officers Mortis and Bigelow. To even things up, when Mortis is killed (in the line of duty, of course) he gets a jump start from the Resurrection machine and takes the fight to the zombie bad guys.
News & Interviews for Dead Heat
Critic Reviews for Dead Heat
Audience Reviews for Dead Heat
The entire time I watched the movie. I was thinking to myself. Why didn't I see this sooner? It is over-the-top, gory, funny, and has some really awesome special effects. This movie has everything you could possibly want. If you enjoy these types of movies. Which I do! So, I enjoyed this film immensely.
Jason Reneau
Super Reviewer
This movie is utterly ridiculous, mindless ,and forgettable. Having said that, it was kinda fun, and the special effects are done nicely, so it wasn't too horrible to watch. In fact it's a black comedy mixed with a buddy cop comedy, so it does make you laugh a bit, but with a combination like that you have to be careful. This movie is not careful enough with that balance, and it comes off as neither over the top cheesy goodness, nor a masterpiece, just something in between. The story starts to get muddled, the machine is over used, the actors are annoying. It's an okay movie, overall, but not good.
Hahaha now this was a fun flick, Treat Williams, who looks Strangely like Bill Pullman, is pretty cool here. Piscopo looks solid n buffed and apart from the non funny lines its a great blast. Wicked 80's style everything, effects, clothes, cars etc...Steve Johnson did the effects, thats how I found out about this, in a monster effects book, saw the three faced zombie and thought, yep, I gotta see that.
Phil Hubbs
Super Reviewer
Dead Heat Quotes
| | |
| --- | --- |
| Randi James: | Oh, you're hurt! |
| Roger Mortis: | Lady, I'm fucking dead. |
| | |
| --- | --- |
| Doug Bigelow: | That's it. From now on I'm a vegetarian. |