Dead of Night
(1945)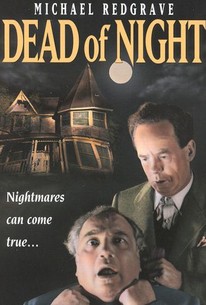 TOMATOMETER
AUDIENCE SCORE
Critic Consensus: With four accomplished directors contributing, Dead of Night is a classic horror anthology that remains highly influential.
Movie Info
A phone rings. Architect Mervyn Johns is wakened from a nightmare and summoned to the country estate of Roland Culver. Here he meets several strangers, all of whom seem vaguely familiar to him. The conversation turns to nightmares, with each guest relating a recent disturbing dream or real-life event. Anthony Baird weaves a tale about being invited into a hearse with the words "Room for one more, sir." Teen-ager Sally Ann Howes speaks of the time that she met a strange, melancholy child dressed in 19th-century garb during a birthday party. Googie Withers recalls with a shudder how an antique mirror purchased by her husband Ralph Michael nearly prompted her strangulation. There is a comic interlude involving golfers Basil Radford and Naunton Wayne, one of whom is flummoxed by the ubiquitous ghost of the other. The best is saved till last: the story of unbalanced ventriloquist Michael Redgrave and his malevolent dummy. At the end of this round-robin, Johns suddenly and without warning kills psychiatrist Frederick Valk -- just as he predicted that he would. Johns runs from the house, confronting scenes from the various aforementioned nightmares, and then finds himself safe in his own bed. It's all been a horrible dream. And then, the phone rings, and Johns is summoned to the country estate of Roland Culver.....Perhaps the single most influential "portmanteau" film ever made, Dead of Night was for years available only in a crudely re-edited version, eliminated the Sally Ann Howes and the "golfing" vignettes. Even when fully restored, the full effect of the film was lost whenever some thick-witted projectionist would shut off the film before the "deja vu" closing credits.
News & Interviews for Dead of Night
Critic Reviews for Dead of Night
Audience Reviews for Dead of Night
It is a beautiful thing to see how this British anthology of horror stories is so eclectic and relies mostly on an intelligent dialogue, having completely influenced the genre ever since and offering us five tales ranging from spooky to funny to chilling to creepy as hell.
Carlos Magalhães
Super Reviewer
½
A super-psycho-natural flick. For a 1945 flick, the scripting seems quite advanced. Not the best, but definitely worth a watch (and maybe even more entertaining if you can resist looking for plot-holes).
familiar stranger
Super Reviewer
Many of the reviews I've read over the years of "Dead of Night" seem to sideline the "Christmas Party" episode as being less successful and effective than the other stories involved. At first, I tended to agree with them; however, after a while it dawned on me that there was something rather unusual about the sequence that I couldn't quite place my finger on. Normally, in a ghost story, any part of the story containing the appearance of the ghost looks rather unreal in comparison with the everyday part to underline the supernatural aspect of the spectre's apparition. However, in this particular story, it's the (real) children's party that looks unreal, and the (supernatural) ghost that looks real. The party shows a massive house, with a roaring log fire, loads of toys, food, etc, and the children enjoying themselves enormously, without any adults present. It has the look of a fantasy of the perfect party any child would want. However, the meeting with the young boy seems more rooted in reality, and this is the irony of the story - that Constance Kent, the sister he mentions, actually did exist and did admit to killing her younger brother. In real life, the boy was actually a baby when he was murdered, but his age has obviously been changed so that Sally could talk to him. This gives an extra poignancy to the story, in that he likes Sally and presumably would have wanted her for his real sister, but instead had Constance, who killed him - the worst crime she could have committed against a helpless child. I think it would be wrong to overlook this sequence as unworthy of comment, and reassess its value in "Dead of Night". It may not be as frightening as the famed ventriloquist story, but it does carry an emotional power which is perhaps its strongest point.
Cassandra Maples
Super Reviewer
Dead of Night Quotes
There are no approved quotes yet for this movie.