The Desperate Hours
(1955)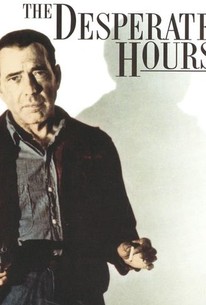 The Desperate Hours Photos
Movie Info
Based on the novel and play by Joseph Hayes, which in turn was inspired by an actual event, The Desperate Hours is the prototypical "family-trapped-by-criminals" drama. Escaped convicts Humphrey Bogart, Robert Middleton and Dewey Martin, seeking an appropriate hideout until they can make contact with their money supply, deliberately choose the suburban home of Fredric March and his family. The cold-blooded Bogart wants no trouble with the police, and he knows he can cower a family with children into cooperating with him. The convict orders March, his wife Martha Scott, and their children Richard Eyer and Mary Murphy, to go about their normal activities so as not to arouse suspicion. Young Eyer, upset that March won't lift a hand against Bogart, assumes that his father is a coward. The authorities are alerted when March, at Bogart's behest, draws money for the convict's getaway from the bank. Pushed to the breaking point, March begins subtly turning the tables on the convicts. Bogart's character in Desperate Hours was originally written for a much younger man, which explains why Paul Newman was able to play the part in the original Broadway production. The film was slated to co-star Bogart with his old pal Spencer Tracy, but this plan fell through when the two actors couldn't agree on who would get top billing. Desperate Hours was remade in 1991 with Mickey Rourke in the Bogart role. ~ Hal Erickson, Rovi
Critic Reviews for The Desperate Hours
Audience Reviews for The Desperate Hours
Three escaped convicts invade a middle class family's home and hold them hostage. The premise of The Desperate Hours is something that, in the right hands, could have been a tense and gripping affair full of sharp dialogue and insightful character analysis. Unfortunately this stage-bound script could not shake its theatrical roots and the characters are too stereotypical to have any real lasting impact. The family are a poster for Republican middle America, seemingly having stepped out of a 50s sitcom and the crooks are all shown as ignorant, working class thugs which leaves a rather unpleasant vibe of class snobbery. The dialogue lacks any real bite and the tension is compromised by the fact that Bogie allows the family members to almost come and go at will. On the plus side, Bogart is as solid as ever and is always fun in his bad guy roles and there are some nice scenes between he and Frederic March as the apple-pie dad who finds his backbone once his family is threatened, but it's too long considering the one idea premise and seriously sags in the middle because of it. John Huston did something similar in Key Largo to much greater effect.
½
A dense cat and mouse game featuring old Bogart, still pulling it off, maybe not as menacing as he could have, but it is his charcters rogue-like ambiguity that carries the movie. A hostage drama at its core, the movie features a many characters and depicts their conflicting interests. Of course, the increasing tension between the captors and the glooming disaster is what fires up the heat of suspense. Very good. HX
Henrik Schunk
Super Reviewer
I can't believe I'm saying this, but I liked the Mickey Rourke version better -- and I didn't like that one so much, y'know?
The Desperate Hours Quotes
There are no approved quotes yet for this movie.