Devil Doll
(1964)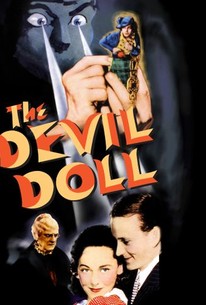 Movie Info
In this film, falsely convicted Lionel Barrymore escapes from Devil's Island with fellow prisoner H.B. Walthall. A brilliant scientist, Walthall reveals to Barrymore that he has developed a process to shrink human beings. Upon Walthall's death, Barrymore goes to the old scientist's lab, intending to use Walthall's formula to exact vengeance.
Critic Reviews for Devil Doll
All Critics (6) | Top Critics (1) | Fresh (2) | Rotten (4) | DVD (1)
...Devil Doll has that ineffable something that makes a B movie into a cult movie...
Although deliberately created to replicate the dummy episode from DEAD OF NIGHT, this black-and-white English production works tolerably well as a crude rip-off, thanks to a creepy dummy and creepier performance from Haliday as The Great Vorelli.
A fun, off-beat little horror film
September 8, 2002 | Rating: 2/5
Audience Reviews for Devil Doll
½
it was made in the thirties not sixties. wrong flixster data.
Veronique Kwak
Super Reviewer
"What Is the strange, terrifying evil secret of the dummy... and why is it locked in a cage every night? Is it flesh or wood? Man or monster? Alive or dead? The Devil Doll. It walks. It talks. It kills. Strange! Terrifying! Evil!" -tagline
Randy Tippy
Super Reviewer
The 1936's Devil-Doll is a crazy mix of Frankenstein, The Littles, and Mrs. Doubtfire. Sounds strange enough right? This movie marks the steep decline in quality and in popularity of Tod Brownings work. He really picked up steam by directing classics like Dracula and Freaks, however he wasn't able to maintain that level of quality. Instead he retired from directing in 1939 and fell out of society; completely cutting himself off from everyone, including his family, until his death in 1962. This movie is really intriguing with its use of the early "green screen" work and its other effects. That is really what drives the film. Other than that the movie sort of falls flat and ends very bizarrely. Lionel Barrymore (Great uncle of Drew Barrymore) and Marcel are on the run after escaping from prison. Marcel is a great scientist and he drags Barrymore to his experiments once they escape. The experiments Marcel performs involve shrinking things down to 1/6th their original size. For the most part he carries out these feats of size reduction on his seemingly endless supply of dogs. The doctor has a heart attack and before he dies tells his vision of the world to Barrymore and his assistant (some lady with a limp). The Lady, determined to finish the doctor's work, decides that Barrymore must help her realize the late doctor's dream. So naturally Barrymore just becomes a doctor in about 5 minuets. He even comments "I couldn't help, I was a Banker". How does this guy just up and become a scientist?It bugs me! The movie goes on from there with Barrymore using the method used to shrink things to clear his name, and then lives out the rest of his years in peace. That is pretty much the entire movie. There are some freaky parts like when he tortures his victims by paralyzing them with a tiny dagger dipped in paralyzing potion, or when Lionel Barrymore dresses up as an old woman to allude the police. His make-up is pretty uncanny. You wouldn't even know that you were looking at veteran actor of the stage and screen. The movie didn't have a lasting impression on me though and I am going to give it a mere 4 out of 10. I am going to go be a surgeon now. S!D
Brandon Siddall
Super Reviewer
Devil Doll Quotes
There are no approved quotes yet for this movie.