Doctor Zhivago
(1965)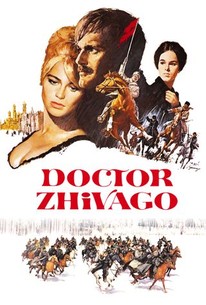 TOMATOMETER
AUDIENCE SCORE
Critic Consensus: It may not be the best of David Lean's epics, but Dr. Zhivago is still brilliantly photographed and sweepingly romantic.
Movie Info
Based on the Nobel Prize-winning novel by Boris Pasternak, Doctor Zhivago covers the years prior to, during, and after the Russian Revolution, as seen through the eyes of poet/physician Yuri Zhivago (Omar Sharif). In the tradition of Russian novels, a multitude of characters and subplots intertwine within the film's 197 minutes (plus intermission). Zhivago is married to Tonya (Geraldine Chaplin), but carries on an affair with Lara (Julie Christie), who has been raped by ruthless politician Komarovsky (Rod Steiger). Meanwhile, Zhivago's half-brother Yevgraf (Alec Guinness) and the mysterious, revenge-seeking Strelnikoff (Tom Courteney) represent the "good" and "bad" elements of the Bolshevik revolution. Composer Maurice Jarre received one of Doctor Zhivago's five Oscars, with the others going to screenwriter Robert Bolt, cinematographer Freddie Young, art directors John Box and Terry Marsh, set decorator Dario Simoni, and costumer Phyllis Dalton. The best picture Oscar, however, went to The Sound of Music. ~ Hal Erickson, Rovi
Critic Reviews for Doctor Zhivago
Audience Reviews for Doctor Zhivago
The first three hours are spellbinding, with fascinating characters like the ones played by Courtenay and Steiger, but then the film collapses in the last half hour, when most characters go through incomprehensible changes in personality and the plot reaches an awful conclusion.
Carlos Magalhães
Super Reviewer
½
Epic films were a standout aspect of 1960's cinema. Filmmakers took bold risks in telling a great story with their films; hence the decade had some truly unique films. Lawrence of Arabia was one such film, another one was Doctor Zhivago, both films were directed by filmmaker David Lean, who seemed more at ease with himself directing big,, ambitious movies, therefore his work Has been some of the finest in the cinematic medium. His work would only be matched by other filmmakers like Stanley Kubrick and Sergio Leone, and the way he made a film elevated the medium to new possibilities. My favorite film of Lean's will always be Lawrence of Arabia, but with Doctor Zhivago, he crafts another grand epic that is brilliantly directed and acted. The story is set amidst the First World War as well as the Russian revolution, and it's a love story, but the way it's crafted is superb. This is a long film, and I do feel that it could have been shortened slightly. I would say that because of this, David Lean might be an acquired taste, but to those who want n epic picture to watch, Doctor Zhivago is one of the classics in the genre, but personally, I don't think it's Lean's best, like I said, I think Lawrence of Arabia is his finest film, and he delivers something great with that one, but here he nonetheless does some good work, and he manages to craft another worthwhile epic. I loved the film, but like I said, maybe Lean could have cut his film down a bit, as three plus hours of storytelling is a bit much. Doctor Zhivago is a great accomplishment, but it's not a film that demands repeat viewers due to its length, in other words it's hard to get into, and it's not a film that has much action, because it focuses more on its performances, storytelling and it's one of those movies that takes its time for the story to unfold. I would recommend this movie to viewers that enjoy a long, ambitious film, and if you don't mind a long picture, this is worth seeing. With a great story at hand and phenomenal cast of talented actors, David Lean's crafts a great picture that reigns as one of cinema's finest works.
This very large scale production created a frenzy for romantic period dramas, and was the second epic directed by David Lean. Lean directed very large films, but this three and a half hour historical drama about the Russian revolution, and two lovers ensnared in the politics of the country, is much larger in scope than say "Lawrence of Arabia." The film grew in popularity after the soundtrack was released and the beautifully haunting "Lara's Song" came to public attention. The entire film is made of wintry landscapes and broken people, trying to understand what has happened to their ways of life after the Bolsheviks seized power. The two lovers are Yuri (Sharif) and Lara (Christie), who meet very late in the film, after the revolution has seized the country. Both are married and have children, but find themselves connected to one another thanks to a physical attraction and their own sense of propriety in a time of rebellion. Though the lovers' lives are prominent in the film, it's really a grand epic about Russian history, and literature. Yuri is a poet, a musician, and a physician while Lara does what work she can to get by. Yuri is well off but after the revolution he and his family fall into poverty. Lara has always had to struggle and now is limited by her education and her link to her husband, a leader in the new political sphere. This film spans decades, many locations, and flaunts death in the face of the viewer as easily as a running gag. Though their chemistry is riveting, and their inevitable and depressing end is entertaining, it's them as individuals that makes the film successful. When they're separated onscreen we wait for them to finally be reunited, but more importantly, for them to survive the cruel taunts of a new country, devoid of humanism. They're addressed as characters before they're slapped into a couple, and though their circumstances are very tragic, they are not always defined by the other person. This goes especially for Yuri, because he's the man, so of course he has the most interesting story and character development, but Lara too has her own agency at times, and a troubled past. It's a beautiful film, and if there's one thing you should focus on, it's the vast and all-encompassing cinematography. Some of these scenes have such vibrant color, stoic figures, and huge sets, that it's too much to take in. It's a marvel that something this big became such a big success, or even that it keeps its tone throughout, but the film is very successful in these respects. It's colossal without showing its weight, and it moves pleasantly along, like a quick train ride through the Russian countryside.
Spencer S.
Super Reviewer
Doctor Zhivago Quotes
| | |
| --- | --- |
| Pasha Strelnikov: | Monsieur Komarovsky; I hope I don't offend you. Do people improve with age? |
| Pasha/Strelnikov: | Monsieur Komarovsky; I hope I don't offend you. Do people improve with age? |
| Komarovsky: | They grow a little more tolerant. |
| Pasha Strelnikov: | Because they have more to tolerate in themselves. |
| Pasha/Strelnikov: | Because they have more to tolerate in themselves. |