Dracula
(1931)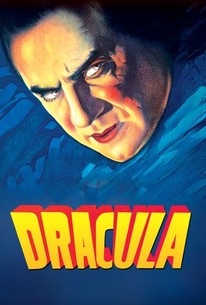 TOMATOMETER
AUDIENCE SCORE
Critic Consensus: Bela Lugosi's timeless portrayal of Dracula in this creepy and atmospheric 1931 film has set the standard for major vampiric roles since.
Movie Info
"I am....Drac-u-la. I bid you velcome." Thus does Bela Lugosi declare his presence in the 1931 screen version of Bram Stoker's Dracula. Director Tod Browning invests most of his mood and atmosphere in the first two reels, which were based on the original Stoker novel; the rest of the film is a more stagebound translation of the popular stage play by John Balderston and Hamilton Deane. Even so, the electric tension between the elegant Dracula and the vampire hunter Professor Van Helsing (Edward Van Sloan) works as well on the screen as it did on the stage. And it's hard to forget such moments as the lustful gleam in the eyes of Mina Harker (Helen Chandler) as she succumbs to the will of Dracula, or the omnipresent insane giggle of the fly-eating Renfield (Dwight Frye). Despite the static nature of the final scenes, Dracula is a classic among horror films, with Bela Lugosi giving the performance of a lifetime as the erudite Count (both Lugosi and co-star Frye would forever after be typecast as a result of this film, which had unfortunate consequences for both men's careers). Compare this Dracula to the simultaneously filmed Spanish-language version, which makes up for the absence of Lugosi with a stronger sense of visual dynamics in the lengthy dialogue sequences. In 1999, a special rerelease of Dracula was prepared featuring a new musical score written by Philip Glass and performed by The Kronos Quartet. ~ Hal Erickson, Rovi
News & Interviews for Dracula
Critic Reviews for Dracula
Audience Reviews for Dracula
½
It knows how to create a very creepy atmosphere and benefits from a magnetic performance by Bela Lugosi, even though the movie didn't age so well (a deleted epilogue makes the last scene seem too abrupt today) and everything about it is more theatrical than realistic.
Carlos Magalhães
Super Reviewer
½
This version of Dracula is the first widely released film of the tale since the German Nosferatu. It does not take directly from the novel, written by Bram Stoker, and instead uses the stage play, which actor Bela Lugosi performed in before being cast in this MGM classic. Dracula here has never been so seminal, suave, and adamantly foreign. Unlike the hideous incarnation of the famed monster in Nosferatu, here Dracula wears beautiful black capes, has a legion of wives, and travels great distances only to appear in London under an assumed name to find his next victim. In attendance to the dark lord is an entranced lawyer named Renfield, played by the insanely creepy Dwight Frye, giving a performance that leaves an everlasting impression. Most of the film is made up of interesting performances, most notably of Lugosi himself, who took a criminally low wage in order to take on the role he first performed on stage. He even negotiated the rights for the play and book for the MGM. Lugosi is certainly enigmatic, many scenes showing penlights being shone into those dark orbs, brows lowered in mock irritation and sensuality. The way Lugosi uses his hands, his aura permeating every scene, whether flanked by fake spider webs, the foggy docks of the London harbor, the box at the theater, or one hand moving out of his wooden coffin, ready to strike. The two leads who portrayed victim Mina and her beau John were slightly annoying. Mina was susceptible to fainting spells, high pitched screams, and expressions of lost innocence while John's face only held the expressions of concern and horror. The atmosphere of the film was quite interesting, the vampire running throughout the cityscape, his influence over his victims and accomplice evident from the fear they showcased. The chase between the vampire and the famous Van Helsing wasn't as thrilling, years later, and the lack of sound was less off-putting than empty. This was one of two performances Lugosi had as Dracula, while also portraying characters like the vampire in other MGM films. His performance is one of the best in history, and there's no one else who can carry that heavy Hungarian drawl so many years later.
Spencer S.
Super Reviewer
Dracula released in 1931 is probably the most famous version of Bram Stoker's classic work ever put on-screen. This is a brilliant piece of cinema in the early year's of the silver screen. Universal cemented itself as a leader in the horror genre, and released many classic films that set the standards for many years to come. Dracula made Bela Lugosi a star and ultimately a horror icon of the classic era of film. Although often overshadowed by Boris Karloff, his performance here definitely is a much more in depth performance, as Lugosi brings charisma to the title character that Karloff didn't seem to have. I'm not saying that one is better than the other, all I'm saying is that Lugosi had a bit more screen presence and on-screen demeanor due to his larger speaking role. The film itself has a strong sense of atmosphere, which is key to build effective chills and suspense. This a flawless horror picture that stands out even today because the idea issi simple, yet due to Lugosi you are just captivated and mesmerized by his performance. There has been countless films based on Dracula, however this version along with Francis Ford Coppola's 1992 film really stand out because they bring a great cast to tell the Bram Stoker classic which have made vampires such an integral part of the horror genre. Bela Lugosi is wonderful here and his hypnotic performance is among the greatest ever filmed. Dracula remains one of the best vampire films, and its influence on the genre is still apparent today. A definite must see for horror fans.
Dracula Quotes
| | |
| --- | --- |
| Count Dracula: | Listen to them. Children of the night. What music they make. |
| | |
| --- | --- |
| Dr. Van Helsing: | We Know Why The Wolves Talk, Do We Not, Mr. Renfield? |
| Dr. Van Helsing: | We know why the wolves talk, do we not, Mr Renfield? |
| | |
| --- | --- |
| John Harker: | I Say Driver, What Do You Mean By Going By This? |
| John Harker: | I say, driver, what do you mean by going at this. |
| | |
| --- | --- |
| John Harker: | Well, I'm Sorry, But There's A Carriage Meeting Me At Borgo Pass At Midnight. |
| John Harker: | Well, I'm sorry, but there's a carriage meeting me at Borgo Pass at midnight. |