Duel
(1972)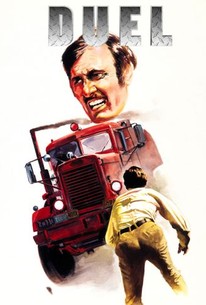 TOMATOMETER
AUDIENCE SCORE
Critic Consensus: Duel makes brilliant use of its simple premise, serving up rock-solid genre thrills while heralding the arrival of a generational talent behind the lens.
Movie Info
In this TV movie, Dennis Weaver is driving down a deserted Southern California highway when he passes a large gas trailer truck. Moments later, the truck dangerously tailgates Weaver before abruptly cutting him off. Weaver and the never-seen truckdriver then engage in a motorized duel ... to the death.
News & Interviews for Duel
Audience Reviews for Duel
Its hard to think Steven Spielberg was around directing movies as far back as 1971, dunno why, just is. Anyway this movie was originally a TV movie (only recently found out), a rather short TV movie naturally. But after this feature found much success on TV Spielberg was given more money to film more scenes for a longer cinematic cut. This alone shows the quality of Spielberg's work because you'd never guess there was extra filmed footage, it all blends so seamlessly. The plot is based of a short story of the same name by Richard Matheson. It involves a middle aged man (David Mann) who is travelling on a business trip in California, although we never really find out what he does or where he's going (well he's a salesman but that's all we know). Its a strange unexplained situation really, he starts out from a city (unknown which), and drives for what seems like friggin' ages! We follow him through the city and far away, out into the Californian desert and beyond, Christ knows where he's going but he doesn't appear to have any baggage or anything. At one point he comes across this dirty, rusty almost spooky tanker driven slowly by persons unknown. He passes the tanker legally as anybody would, but for some reason the driver takes some kind of offense to this and roars past Mann again, reverting back to driving slowly. Mann once again overtakes the truck and speeds away, the tanker driver blasts his horn in anger. From this point on Mann is terrorised by the mysterious tanker at every turn of his journey. This movie used to be on TV a lot when I was a kid, a typical Boxing Day film. Its a thriller but in typically Spielbergian fashion, so not much swearing, if any, and what there is is tame, plus suspense that can be enjoyed by all. I mean lets be frank here, you're not gonna have much scary suspense about a tanker driver chasing a small red car in the middle of the day right. Yet this just shows how good Spielberg was/is, the film isn't scary no, but that shows how good the camera work and direction needed to be in order to convey the danger and atmosphere. The looming shots of the oily hulking tanker as it bears down on Mann's tiny car, creepy distance shots of it just waiting whilst chugging out black exhaust fumes, the way the tanker comes out of nowhere behind Mann's car, plus all the stand-off moments. It all looks so slick and nothing like most made for TV movies, many shots I think look very Hitchcock-esque in style, especially the moment where Mann gets out of his car and stands-off against the tanker from a distance. The whole thing does seem a tad silly when you think about it logically though. Yes you can relate to it in a degree, I'm sure we've all had moments in car journeys when someone has pissed you off, maybe a touch of road rage, a touch of dangerous bumper riding, some choice language and visual signs etc...we've all been there. But watching this movie you can't help but dissect it just a bit. Lets be honest, Mann could quite easily avoid the tanker, all he had to do was go another route, or maybe stay overnight somewhere, or he could of rung the police much earlier at one of the more populated gas stations. When he does stop at a diner and discovers the tanker is there also, he could of waited by the tanker for the mysterious driver to confront him, maybe even let his tyres down or sabotaged the engine. After all by that point the crazy trucker had already rammed Mann's car so surely anyone would be straight onto the police. Also, later on when the insane tanker driver tries to ram Mann into an oncoming locomotive, he could clearly, quite easily drive off either to the left or the right, there was space. Suspension of disbelief is the order of the day here naturally. Of course the character of Mann is suppose to be the everyday man, an average Joe, and he is, played brilliantly by Dennis Weaver. This isn't a big man, a man with lots of muscles, a cocky man, a smartass, he's a regular family man with a regular physique...and glasses (but also because in the early 70's big muscle men weren't the thing). Weaver plays this character perfectly, again very relatable for most of us. He's not someone who just jumps to conclusions and lunges in with his fists, he worries, he thinks about the situation, makes himself paranoid, and when he does do something its slow and reserved, he's apologetic and weak. Now I'm not saying that's how everyone is of course but I'm sure most levelheaded people would be more like this, well British people would. What I find interesting is how similar this movie is to 'Jaws', bare with me here. The image of the huge lumbering yet fast dark tanker and the way it haunts the highway, hunting Mann like small prey, parallels Spielberg's famous fishy tale. There a huge lumbering shadowy (for the most part), yet fast shark haunts the waters of Amity Island, hunting human prey much smaller than itself. Both entities are virtually the same and almost shot the same by Spielberg, just watch how the tanker stalks Mann and springs up outta nowhere on some occasions, the horn akin to battle cry or animalistic roar. I love how on occasion we see the tanker just sitting there, its exhaust pumping out its black fumes almost as if it were a breathing creature, waiting to pounce. The shape of the Peterbilt 281 cab section and long hood with front headlights, also gives the tanker an obvious face. The movie is nothing but intriguing from start to finish for sure. The mystery never really gets unraveled, we never see the tanker driver, we never get a reason for his madness, the tanker truck grill/bumper has a few license plates from various States on it which hints at other possible highway kills? or maybe the driver just made other lonesome car drivers crash or abandon their cars (not killing them), and he took the plates? Presumably the tanker driver has always done this on desolate stretches of highway and in barren areas otherwise he'd have the police on his tail. Plus at the very end what exactly did Mann intend to do?? he drives his car at the tanker for what reason?? What does happen is only down to pure luck for Mann, he had no idea it was gonna go down the way it did. And then what?? he's in the middle of the wilderness, with no car, and he's injured...sooo does he die? Unfortunately its left open ended for you the viewer to make your own minds up, alluring but annoying too. Still its a riveting little story that is well acted, beautifully shot and thoroughly well crafted, typical Spielberg.
Phil Hubbs
Super Reviewer
½
The predecessor to the entire truck versus man sub-genre of horror films; of course Steven Spielberg was at the helm of this fairly original concept film. It was the director's first film, the start of a series of films that would culminate in a canon that's lasted for forty years. This first venture had many of the same elements as later films, especially what many consider his magnum opus, "Jaws." The psychological play here rises to an ending climax that pales in comparison to some earlier horror films, and moments in the film still scare forty some years later. The driver is never shown, the situations that he puts the other driver into really scare, and no one seems to be around to help the injured party, which makes for some heart pounding sequences. It's a very simple concept, but with some character development for the part of David (Weaver) who is trying to get back to his wife. Does that have much bearing on the film itself? Not really, because the concept has a driver versus a truck on the open road, with several complications, and that's it. There isn't even all that much dialogue except in the first fifteen minutes. What makes the film watchable, as well as rich in foreshadowing and tension, seems to be the fact that they never seem to leave each other. Even in the moments when there's no chase, when it's quiet and we're waiting for the truck to appear around the bend, it's tempting to scream with anticipation. What also pushes the film past psychological and into the realm of horror is the fact that the truck driver in question randomly seems to choose this victim. It's hellish, the driver and the truck sometimes seeming like the exact same creature, and oftentimes it's hard to distinguish the face-like grill on the front of the truck from a hellhound driver's. Really, the best thing about this early film is that others afterwards weren't as developed and yet had much more story and character than this film, which is simply astounding.
Spencer S.
Super Reviewer
½
[img]http://images.rottentomatoes.com/images/user/icons/icon14.gif[/img] Back in the day before Steven Spielberg became an enormously acclaimed filmmaker irresponsibly recognized by the Oscars for directing epic, arty, classy dramas, he was unrecognized for his talent in the thriller genre. When he began he directed his incredible debut feature, a little monster of an exploitation movie called "Duel." Although it was filmed on a micro budget and was regarded as a throwaway B movie by the studio that backed it's production, it remains one of the most skilfully crafted television movies ever produced, and to a greater extent it is among Spielberg's greatest films if not the very best of his prestigious cinema legacy. Interestingly ever since it's creation a number of Spielberg's well known films pay homage to Duel through similar uses of camera shots and characters originating from this film, including that of Close Encounters of the Third Kind, and Jaws. Needless to say that it is incredibly tense and endlessly terrifying. It it essentially the perfect demonstration that ambition and imagination is superior to massive CGI creations when it comes to making the most skillful and enjoyable horror films for both genre fanatics and the general popcorn audience. Not only is Dennis Weaver's twitchy, quirky, paranoid performance absolutely terrific, but the direction is absolutely phenomenal for a feature debut. Spielberg get's just about everything in this genre movie correct, it has an opportunist plot, a fantastic lead, endless tension and sets his career up for greater triumphs. It has a marvelous Hitchcock meets "The Twilight Zone" influenced narrative that makes for a great atmosphere enhanced with spellbinding music and sound effects as well as eery voice over work and silent suspense. Duel is basically a darkly haunting benchmark in demonstrating how a finely ambitious small screen director can be instantly transformed into Hollywood's most admired, all due to one influential and timeless hit.
Directors Cat
Super Reviewer