Duel at Diablo
(1966)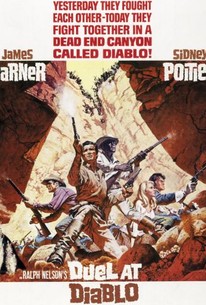 AUDIENCE SCORE
Critic Consensus: No consensus yet.
Movie Info
Frontier scout Jess Remsberg (James Garner) is crossing the desert when he spots a dead army scout and group of Apaches pursuing someone -- it turns out to be a white woman, Ellen Grange (Bibi Andersson); he gets her away from them and returns her to her home and her husband Willard (Dennis Weaver), who seems much more upset that the horse she was riding when she left is dead than he is glad that she is back. Ellen was kidnapped by the Apaches two years before and rescued a year after that, and had fled a town where her husband and everyone else had treated her as an outcast since her return. Apart from preventing her from being raped by some drunken townsmen, however, Remsberg barely has time to worry over what goes on between them, as he has a mission of his own -- tracking down the men who murdered his wife, a Comanche woman. A key clue is in the hands of the town marshal in Fort Conchos and to get there he has to scout for a cavalry unit bringing horses, ammunition, and fresh recruits to the fort, with Grange and his wife -- and the infant son she had by the Indian chieftain who took her as his squaw -- going along, with ex-buffalo soldier-turned-horse wrangler Toler (Sidney Poitier). Their party ends up under siege by Chata (John Hoyt), the Apache Indian chief and grandfather to Ellen Grange's baby, who has jumped the reservation; he wants his grandson back, and the ammunition the troop was carrying, and also intends on killing Ellen for inadvertently causing the death of his son. They all end up trapped in a box canyon while Remsberg tries to survive to get help from Fort Conchos. If this all sounds complicated, it's not, especially as told by director Nelson, in a straightforward, unpretentious, brisk, and decidedly violent fashion that anticipates his own Soldier Blue, made four years later. Every plot element links up neatly in this script, which quite effectively recalls (and weaves together) elements of the book and the movie Hondo as well as any number of revenge westerns of the 1960's. ~ Bruce Eder, Rovi
Critic Reviews for Duel at Diablo
All Critics (4) | Fresh (4) | Rotten (0) | DVD (1)
There's secure star power with actors James Garner and Sidney Poitier, who deliver leathery performances.
Fails to make much hay with the racial questions that were raised.
Audience Reviews for Duel at Diablo
½
Ralph Nelson gained a lot of experience as a television director in the early days. He has also teamed up with Sidney Poitier several times. I have enjoyed all of the films I've seen directed by Nelson, not as the most excellent overall piece of film work, but through the believable performances he draws out of his actors. Andersson plays a frontier woman who was captured by the Apache. She discovers they are not savages and that their way of life is very satisfying. When she is re-kidnapped by white soldiers, her life becomes hell. As expected from this frontier culture, everyone hates or avoids her as if she's been infested with some disease from spending time with the Indians. Everyone thinks she must be a spoiled woman since the savages probably used her as a whore, including her trader husband. She makes several attempts to run back to the Apache, but they consider her a traitor because they think she went back willingly with the white people. She's caught in between these two cultures at war. A major theme of the story is universal Xenophobia. But then the chief threatens to bury her alive for being a traitor, so the Indians are shown to be more savage in the end. And to top it all off, Andersson does have a mixed baby from her time with the Apache tribe. The rest of the ensemble is well developed and provides the adventure and framework. Garner plays a freelance scout who often contracts with the army. He is an expert in the terrain and knows something about Apache strategy since he was married to an Indian woman. He sympathizes with Andersson and is a loner himself because he's never felt welcome in either culture. He's also out for revenge against a white man who scalped his wife. Poitier is a retired army sergeant who has taken up saddle-breaking horses for a living. He's the rare black man on the frontier who is well educated, well dressed, and well respected by almost everyone. Travers plays a Scottish Lieutenant who is charged with training some new recruits and transporting a wagon full of munitions and explosives to another fort across Apache territory. Weaver plays Andersson's husband and he has a wagon of goods he wants to trade at the other fort too. The schedule is rushed forward on this dangerous mission. So instead of heading off to the other fort ahead of the army on his revenge quest, Garner is convinced to scout for the military caravan once again. Poitier has to tag along to tame some of the wild horses on the way in order to receive the remainder of his promised pay. Travers has to deal with inexperienced troops and match military strategy with the Apache chief who is determined to get a hold of the munitions wagon for himself. Weaver, the racist, comes along for the trip as well, expecting protection and just generally causing more drama.
Byron Brubaker
Super Reviewer
Duel at Diablo Quotes
There are no approved quotes yet for this movie.